Dead Man Walking
November 23, 2009
I sit here in a haunted mental institution, but only because people think I'm eccentric and need the help. After all, how could someone as ''peculiar'' as me know how to commit the perfect crime and never feel guilty about what she did even after she committed it? The police arrived at the perfect moment to that empty and dead-smelling house. Let me explain what happened on my perfect, unplanned, avant-garde, unconventional, sick, sick night of killing.

During 1990, I had a job as of staying with a dead man walking, an elderly gentleman in very ill health. The man kept getting up in the middle of the night, screaming and crying that somebody was in his room, standing over him. All he could hear was the breathing, all he could smell was a sweat-filled odor that fulfilled that empty but sanitary room. I told him it was all in his head, but really, it was all in mine. He had the most elegant heart beat, but that night it was unbearable. I knew I had to do something to fulfill my hunger for his heart, and I did.

I had stayed in his room in the middle of the night for two weeks in a row, enjoying my obsession with his heart. That night I couldn't handle it, so I grabbed the end of his bed and slid it off the racks, but right before his head hit the floor, he let out one last pitiful scream. I had no intention of hurting him, not until right then. I flipped him over right, and soon his head hit the floor. There was blood everywhere, or was that the shadow of his soul departing? Everybody knew he was going to hell anyway, so I took him down to the basement and hid him in the freezer.
As soon as I got back upstairs, I heard a hard knock on the door. His scream! Why did he have to scream? I knew it right then; the neighbors had called the police! My God, man! Why did you have to scream? I have been your caretaker for so many years, and now I'm getting arrested for what I have been doing so many years, watching over you every night until you start to cry yourself to sleep, worrying that somebody was going to kill you, or was it just because you are immature and don't know how to control your fear? Unless you really are psychotic, as you say you are, I hope your soul burns in hell!!! You belong in hell.
I walked to the door and wiped my brow. "I'm fine, I'm okay, everything is okay; just act normal," I told myself that a hundred times before answering that door. It was the police but it was okay. I was calm as soon as I opened that door, but then I heard his voice, the dead man's voice, his psychotic but DEAD voice. How could this be? I wondered if I was going crazy, but then it stopped. I had the police come in, go down to the basement, and sit right beside the freezer that I had stuck my dead man's corpse in.

The cops asked me if everything was okay and said that the neighbors had called in a report of an unusual noise coming from inside the house and told me that if I didn't respond to their inquiries, I was going to jail. I told them that I had fallen off of the bed that I was on and took them upstairs to see where the bed was off the racks, and then they asked me why it was all the way off the racks. I told them that I was moving furniture around, and I was putting on the sheets when I noticed it wasn't balanced; then it fell.

I took them back down to the basement and asked them to have a seat in the chairs, which I had provided for them, and then asked if they wanted anything to drink. As I went to the freezer to grab the lemonade, which I had forgotten was in the freezer, I heard it: The old man's heart, and right then, I turned and said there was nothing to drink, everything was fine, and that they could leave. The noise got louder and louder as my ears started to ring because of the pictures in my head, and the words he had said to me right before I killed the stupid old man, and his scream, that scream was the scream of the old man's death. His head hitting the floor, his pajamas, no blood. How could this be? Why is it already coming back to haunt me? I knew it probably would one day, but maybe it's because I had gotten caught so early after the crime; yes, that was why, but the sounds came back and stopped and flashed again. I proved it to those gentleman. I opened the freezer and showed off the corpse. It was gorgeous; there was no fear in those shut eyes of his, no scream, and yet, I gave myself away. I was terrified, but no more would I hear or see or fear of the old man. He was dead, and I am not crazy, not psycho, nor messed up, nor sick, or any of those names people call me. I am brilliant, a genius, a worldwide genius.

Nobody can say that I should regret what I have done. Nobody can say that my life or spirit should be damned to hell! Just consider that I am not fanatical. I would have gotten away with my murderous plan if it hadn't been for his scream.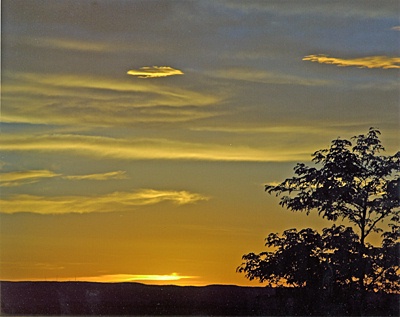 © Elizabeth B., Wichita Falls, TX