Solitude
February 6, 2010
Laughter. When was the last time I heard that? Laughs and giggles and the sounds of happiness.
Happy. The word seems foreign to me. They used to say it all the time. I used to say it.
Solitude is a comforting world. A world of no hate or confusion. It's simple. But, in solitude, you forget how to be happy.
I wish I remembered how to smile. How to laugh, how to just blow things off like I used to.
Luckily, I forgot how to cry. If I had remembered, I would probably never would have been able to live as long as I have. I would have spent all of my few last days crying.
But I have to stop myself. I have to stop myself from thinking about tears. Maybe if I stoppped thinking all together I could be happy again.
They could keep their imperfect society. This room was all I needed.
I knew I was dying. I wasn't sure if it was the thirst or the hunger or the disease.
They had locked me up.
Was I crazy? I have never spoken like a madman.
The whole room dripped with silence. It oozed that strange ringing that you get when you know you are about to die.
I limped over to the dusty cracked mirror. My eyes were calm....almost dead.
Almost dead. I could feel my breath getting shallow, my heart slowing. Slowing.
It was creeping along. My own death couldn't even spare me the torture of fear. I couldn't die quickly because nothing painful in my life had ever gone quickly.
Why would my death be an exception?
"Crazy!" They had all called me. "Crazy!"
Even as they locked the door I could hear their chants.
Solitude could keep me away from people who could be contaminated by my insane ways.
I liked this solitude, I thought.
Then I sighed. Even in my dying hours I lied to myself.
My skin began to feel prickly. And just as I laid down to die in this dark black room i heard the creaking of a door opening and a light met my closing eyes.
Now they choose to save me....Just as I lay with death strangling me.
Even as I die my pain is slow....
Then I realized that now someone could hear my last words.
"I...." I whispered, "I am not crazy...."
And then I prayed that someone heard me, and I closed my eyes, and I stopped breathing.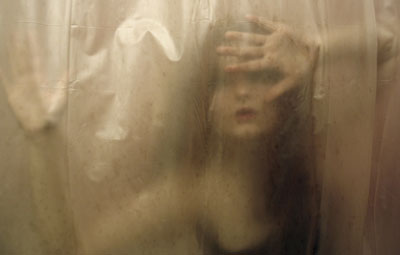 © Emilie E., Tecumseh, OK