The Vampire
April 1, 2010
I lean over to rest my elbows on the window sill and avert my troubled gaze over to the long stretch of hills obstructing the late evening sunset on the horizon.
I sigh loudly, fogging up the cool glass I rest my forehead on. My vision is impared, so turn I the latch and let the cool evening breeze softly whip at my cheeks and play with my wavy hair. I feel goosebumps appear on my arms and neck; but i know that it isn't from the cold. I feel as if I am being watched. I ignore the feeling; I have bigger things to worry about.
I hear the soft brush my door makes when it is being opened. My entire body freezes. A calm, deep voice tells me I musn't scream. I obey. I carefully turn my head. There, in the doorway to my room, stands a dark, cloaked figure. Underneath the thick cover of the cloak, I see that the person is wearing average clothes. I think it is one of my brothers friends pulling a prank on me.
Suddenly, my head feels unnaturally heavy and my eyelids slam shut as i hit my bedroom floor.
Cold, hard hands firmly grip my bare shoulders, bringing me out of my conciousness, and I feel two sharp-pointed needles carefully piercing the side of my neck. I gasp as the right side of my body explodes into spasms of firery pain, withering as the agony takes over my helpless body...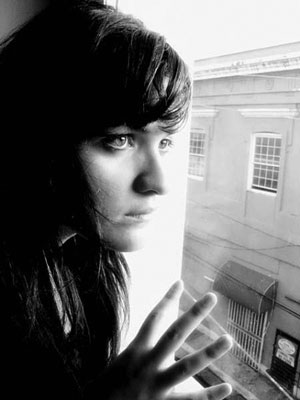 © Eveliz V., Bayamon, Puerto Rico