Monster
April 27, 2010
I run faster. My heart pounding as fast as my lungs. IT's gonna catch up to me at any moment. What kills me is the anxiety, I don't know when IT will catch up to me, I just know IT will. Maybe I should just stop completely, let IT win, I'll die in the end regaurdless of what I do. But no, I have to fight, it's all I have left, even if I already know the ending.
The rapid thumping of feet hitting the pavement behind me only fuel me to run faster. I'm choking on my own breath and I have no idea where I'm headed. The street lights only illuminate what they want me to see, which isn't much.
I round the corner, my eyes half shut. There was nothing to live for anyway, right? I open my eyes and nearly trip at a dead stop, looking straight into the eyes of IT.
Every light flicks on and I'm face to face with the monster. Those electric, round blue eyes, hiding such a past. Those long, black spiral curls, masking such a terror. That perfect set of pink lips, used to speak so many lies.
She smiles that grin, evil behind something so gorgeous. How could it be possible? I hate her. She ruined me, she changed me, she made me do things I never wanted to. With all my might, I hurl my fist at her while she stands there, laughing. Again and again, I'll never stop. But for some reason...
the mirror doesn't shatter.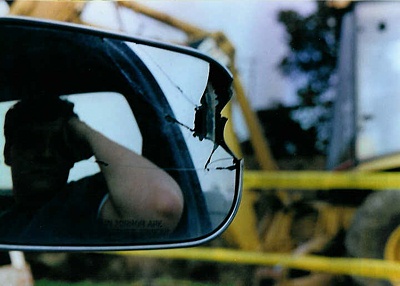 © Matt M., Ponca City, OK