Haunting Her
MAG
April 28, 2010
It had been a week since he died, a week, though it seemed longer. But it had been a week – the calender on the wall proved it.

She placed her finger on the current date, then moved it up to the day he had died, then one space over to the day he had started … started what? What was the right word? "Haunting her" seemed to fit, but at the same time it didn't. He had always been so caring; he would never have tried to hurt her or scare her. But he was scaring her, she was scared of the way she would feel his presence, feel that he was in the room with her, without seeing or hearing him.

She did hear him sometimes, after she had already felt him there. He would linger in the darkness, before whispering the same words every time: "You didn't save me."

"I tried to," she would attempt to say, but the words always caught in her throat, and he would leave before she found her voice.

She ran her finger over the stitched-up cut above her right eye, remembering how it had bled all over him as she was trying to save him. She had begged him not to die, but he had. He had looked into her eyes and whispered her name weakly, just before his heart stopped beating. He had been so weak, he didn't know she had tried to save him. And she couldn't tell him this; he always left ­before she found her voice. He left. Why did he keep leaving?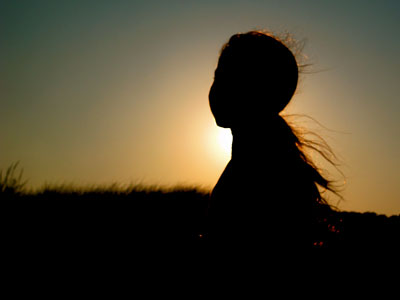 © Barrie T., Scarsdale, NY