Baby Alive
June 8, 2011
Mama don't like it when I talk to my dolls. And she hates it when they talk back. "Maddie stop it!" she yells "You know I got bad nerves, you're scaring me."
I don't mean to scare her- swear to God I don't. But I can't ignore the dolls. There are too many of them to ignore. They keep calling me over and over. And they get louder and louder 'till I have to say something to get them to shut up.
It didn't used to be like this. Back before Darby died they were real quiet and kind. They only ever called out to me when they were in trouble.
"Maddie," they'd whisper "come pick me up off the floor."
"Maddie, come quickly. Patrick wants to play baseball with my head."
"Maddie, where is my dress? I'm cold."
Now they've gotten demanding—and surly too. Just last night Raggedy Ann pulled my hair 'cause I forgot to put sugar in the pretend tea.
Baby Alive is the scariest. She never pulls my hair or anything. She just sits there crying and calling my name. "Maddie." Her eyes follow me around the room. "Maddie." The tears run down her plastic face like rain on my window. "Please, Maddie." Her voice is thin and watery. The calls get louder and louder every time she says my name.
***
The dolls have been quiet today. I wonder what they're up to. I'm sitting in my room now. I haven't heard a thing from anyone, not even Baby Alive. I go to pick up Penny, my favorite porcelain doll. Her body is cold, and rigid. Like a doll's body should be. Something is wrong.
Penny's hair is long, curly and red, just like Darby's is—or was. Grandmamma gave her to Darby when she was a little girl. Then Darby got too old for dolls and she gave her to me.
I always wondered how she could give Penny up- the two of them were made for each other. They looked just alike-- with beautiful blue eyes and perfect white skin-- she was beautiful. Both she and Darby were.
I gently pull at one of Penny's ringlets. It stretches, and then shrinks right back into its perfect place. I pull it again, harder this time. I can feel the hairs snapping off at the root. I wrap my fist around the ringlet and yank it as hard as I can. It comes out and the lock of red hair lies limp and noodle-ly in my hand. I drop it onto the white carpet. Now, there's a bald-spot in the center of pretty Penny's head. I can see the holes that they used to attach the fake hair to her porcelain head. It's all so phony, so disgusting.
I pull out another chunk of Penny's hair, then another, and another until she's bald. All the while she keeps smiling her broad, red-lipped smile.
When I'm done I rub my fingers over the uneven stubble that's left. I wonder if Darby, wherever she is can see what I've done to Perfect Penny's red hair. She probably can. She's probably looking down on me at this very minute, frowning that frown where her eyebrows furrow and a little wrinkle forms in her forehead. I look at Penny's perfect, pretty forehead. That skin will never wrinkle. But it can crack.
I do my softball wind-up and throw Penny at the wall. She shatters into a thousand tiny pieces. Then I hear a whimper.
"Maddie." Baby Alive moans.
"What do you want?"
"Maddie, Maddie, Maddie"
"Shut up!" I yell, grabbing Baby Alive by the throat. "Maddie" she croaks.
I throw her against the wall, but Baby Alive is plastic so she don't break as easy.
I stomp over to her, and pick her up by the throat. "Maddie, "she calls. I take my right hand and squeeze her head, and then I pull it up and off her neck.
She's dead then. So she stops talking.
I throw the plastic doll body on the ground with the pieces of what used to be Penny.
Then I turn around "Anyone else got something to say?"
The dolls are stunned silent.
"That what I thought."
I go downstairs. I grab a the vacuum cleaner and the biggest trash-bag I can find. I'm going to clean my room and get rid of all the pests.
I'm too goddam old for dolls anyhow.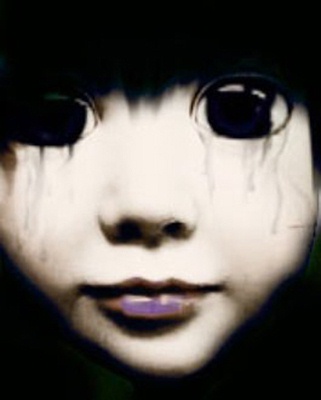 © Stephanie C., Gaithersburg, MD