Shattered Peace
February 19, 2013
Chapter 1

Ba boom.
Ba boom.
Ba Bo-- ...
White light.
White space.
Gentle figures in distance. Faces appear.
Peace. Serenity.
I stand upright without flexing a muscle. Ultimate peace.

"Follow us."

I follow the innocent- looking figures.
Time feels slow. Time is gracious.
Gentle lights appear in the distance. So far in the distance.
I glance at my feet.
They are still yet I am moving.
A white flowing dress tumbles from my shoulders to my toes.
Still moving, pure- white angel eagle wings gracefully keep me afloat the ground.
Peace.
Amazing peace.
I shall never leave this peace.

Dark figure.
Peace begins to shatter, and stop altogether.
The dark figure stands out upon this painting of purity and peace and staggers towards me.
I begin to run. I need the sentimental peace back, I need it.
My mind dazed, I move no faster than I have been previously.
Flick my head around,
flash of a black face and fiery eyes that almost pierce mine, close eyes.
In the same moment, I gasp fiercely and shoot my eyes open to the inside of a hospital room.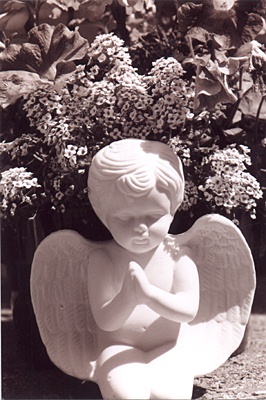 © Laurie T., Hopkinton, MA