Guilty
January 29, 2014
"The court finds Darius Emmett Adler guilty of murder in the first degree and is sentenced to a life sentence without parole."
A young man stood between two guards. He held his head high, his light brown hair brushing his forehead slightly, it's curls pressed against his skin with sweat. The young man's lips were pressed together in a thin line, his hazel eyes stared straight a head.
The guards turned and walked the young man out of the courtroom, just before he was escorted out the door he turned his head and stared at the corner of the room. A teen girl looked back and the then down at her feet. Raising her hands up just enough so the man could see she signaled the words, 'I AM SORRY and then let her hands fall as she watched he brother be led away.

Rachel sat at her desk, staring out of the large window. Her pencil tapped against the desk, her computer opened. Rachel was an attractive young woman, around 28. She stood at 5'7" and had a healthy build Her simple business suit fitted perfectly. She stood and stared out her window onto New York city.
As a child growing up in Detroit Rachel had always wanted to come to new York, get a job, start a business. She was a young entrepreneur with rented office space in the big apple and she was stuck. She couldn't make herself grow her business, guilt was consuming her.
She leaned on her old window sill, staring out at the light twinkling at night, her mind racing, she looked back at her desk and then went and checked the door, no one was in the hall. She went back to her desk and checked the neatly written note typed up on her computer, ready for the cleaning lady to find tomorrow morning.
Rachel turned and started to pace her office. She glanced at her desk, a revolver rested next to her computer. The same revolver she used 15 years ago, she walked forward and lifted the revolver in her hand, staring down at it, lifting it up so she was staring down the barrel.

*She huddled under her sheets, her hands clutched around her father's old revolver. She heard her father heavy footsteps coming down the hall and squeezed her eyes shut, her breathing quickened. The smell of alcohol filled the room as soon as her door opened. A sweaty hand suddenly pulls her blankets and sheet aside and reached for the young teen's hair. The girl quickly lifted the revolver and fire, and just kept firing until the chamber was empty.
A young man with light brown curly hair ran into the room,
"RACHEL!" He shouted. he pried the gun from his younger sister's hand, wiping her prints from it and wrapping his own hand around it,
"Rachel run, go, go to Momma's work." he told her sister, carrying her over the dead man's body and pushing her out of the house. Rachel ran as the sirens could be heard in the background. *

Rachel came back to reality. The door of her office opened, Rachel looked up, lowering the gun quickly and hiding it behind her back. Her mother stood there, dressed in a simple black gown, her hand resting in her black purse.
"Rachel, I know. Darius told me. He died in prison because you wouldn't confess, Rachel. I have to avenge him. Rachel took a step back as her mother's hand slid form the purse and then the lights went out, a common power outage in the neighbor hood.
"I am guilty." Rachel whispers into the night. Loud shots rang through the darkened New York streets, the emptying of a revolver.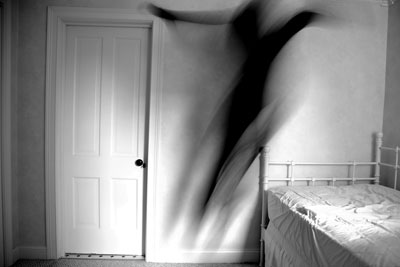 © Sarah M., Blairsville, PA