Gone Forever
April 14, 2012
I sighed. A long, deep, sigh. Probably my last.
It was them again. Again I was going to be thwarted.
"Hey, macho boy! Whas' up with the hairy styly, doo?" jeered Timor, the gang leader.
"Just leave me alone." I pleaded, raising my voice to display my adamancy in standing up to them. But I knew I couldn't. I could never stand up to them. They were just too……
Ignoring the latent threat in my voice, they loomed nearer. One of them fastened my wrists behind my back, while another braced me to stand my ground, as the gang leader took careful aim…
WHAM. Blood covered my face as my glasses flew away, shattered by the impact of the blow. I was pushed against the wall and punched in the chest, so that I lay on the ground and stirred no more.
It was nearly night-time when I woke up. I was lying on my back, crumpled like a Snorkack. I tried to get up, but the agonizing pain in my back coerced me not to. Slowly; almost like an upturned snail; I turned around and opened my eyes. At least I tried to. Darkness grappled me. I tried rubbing them to readjust my focus, but to no avail. It was useless. All is useless in such a situation, dear reader. You are lost, lost forever to grope about in the prevailing darkness of the world.
I closed my eyes. No effect. Then the truth hit me. When it did, I almost swooned all over again. For you see, I can't. See, that is. I HAD NO VISION LEFT TO SEE.
That day was the last day. I never returned. I will never return. I am gone, forever and aye. My mother kept waiting for me to accompany her to Aunt Em's. But I never returned. I will never return. Don't wait for me. I am gone. Gone Forever.
My last word to my compeers; never bully. For one day, you too, might find a brother or a caring sister gone. Gone like me. Forever.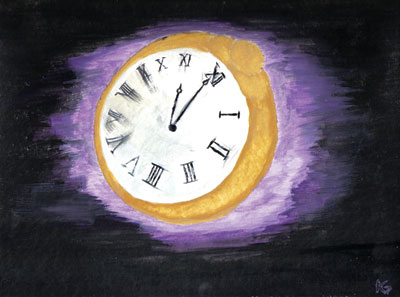 © Kyle G., Clarksville, TN