My Bullying Story
January 22, 2013
My Senior year had finally come, so I joined the Velva High School Cheer Team. I had never felt like I had belonged anywhere before that, and the feeling was so great as to give me goosebumps. I had to work really hard to do what other girls could do easily, but I never gave up.

Despite my resilience, I had thought about quitting at one point. It was right after our loss against DLB. They had won by 22 points, and cheering our basketball players on had gotten increasingly more difficult. With a look of defeat, we gave our congratulations to the opposing team.

Imagine the Winter months of North Dakota. For those few months wearing a skirt becomes an idiotic idea, but it is part of the uniform. To counteract such cold, I wore a pair of sweatpants for the walk home. It seemed like the only sensible thing to do. Like any normal girl would, I went to the bathroom to slide my pants on. It was there that my memories of being bullied were refreshed.

She had blonde hair and an extremely thin stature. She was a sadly stereotypical bully. She looked like the twin sister of Regina George. There was no doubt that we would never be friends, but we could have prevented becoming enemies. As I slid on my warm sweatpants her words hit me, and they hit hard.

"Tell me," She began. "How is it that someone as fat as you managed to make it on to the Cheer Team?" The words were there like a poison like could not be retracted. There was a big part of me that wanted nothing more than to hit her. I considered it, and thought that I genuinely might have been able to get away with it.That is, if I hadn't been wearing a Velva uniform.

I wanted to say something rude. I wanted to get even, but that had never been in my character. In a feeble attempt to raise my crushed spirits, I smiled at the girl. I shot her the most genuine smile my face could form.When I recognized that my smile was not in danger of crumbling before the bully before me, I spoke.

"I hope you have a nice night," I told her. When the words first came out I had intended them for evil. I wanted to make her feel simply dreadful for disrupting my routine. However, as the words were spoken, the meaning changed.

There came a point that I realized that I didn't want to make her feel badly about herself. Her actions were cruel, that I can't deny, but for all I knew she was actually quite kind.Perhaps she at least used to be kind. Perhaps someone had broken her the way she broke me. I wasn't sure, so there was something in me that simply couldn't retaliate.

When her face showed that she understood what I was saying, I walked out with as much confidence as I could fake. I left the school without stopping, even to say a farewell to my team. I walked across the street, to my house, pushing back tears. I may have handled the situation with a sense of grace, but my feelings were hurt.

Upon my arrival home my parents asked me what was wrong. Relaying the story, it became too much for my self esteem to handle. I went to my room, and I stayed there for the remainder of the weekend. I felt like I wasn't fit to be looked at, especially not for prolonged periods of time. My heart was injured, and only time could mend it enough for me to get back on my feet.

People are bullied everyday, and some of those people can't handle such upset. If I hadn't had my parents there to talk to, the words that I heard that night could have affected me long-term. I had already taken a stand against bullying, but that night served as a reminder as to why I felt so strongly about it.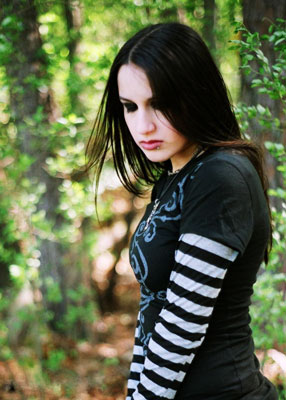 © Rebecca B., Marietta, GA