The Girl That Could've Been Me
February 9, 2018
"Thank you," the shy girl whispered as I handed her a plate. I was in shock.
That day I was volunteering with my school at a Phoenix soup kitchen called Andre House. We usually go about twice a month and help prepare meals for the less fortunate as well as provide them with essential items like clothes or hygiene products. My favorite part is preparing the food and being on the serving line because it builds a connection with those we are serving. Everybody is different but we often receive a "God bless you!" or "thank you for your service!" and it makes the experience a whole lot more meaningful. There is also those who complain about how little food we are giving them (potatoes usually), so I sneakily serve them more even though we are not supposed to.
I cannot fathom the idea of being hungry and not being able to go to the kitchen and pick out what I want. I do not know how anyone can sleep on the noisy city streets. I can not imagine what it must feel like to be disreputed by the rest of society when you can not control the position you are in. And I will never understand those who refuse to give back to others because tomorrow is not promised, and they might be in their position one day.
People of various ages, sexes, orientations, backgrounds and financial stabilities walk through the doors of Andre House, but this time it was different. The girl who I had handed the plate to was around my age and seemed to be out of place in a soup kitchen. She looked "normal," wearing clean clothes and looking like she had a home to go shower to and sleep in her own bed. I could not presume what I was seeing and neither could the rest of the volunteers. We were speechless. I couldn't hold my thoughts and abruptly muttered to my teacher "Did you see her?" "Yes," she responded, as if our minds were in sync.
I instantly felt a yearn to speak to this girl and ask her what she was doing in a place like this. Our close age must have been why but regardless, she was much younger than those who come to Andre House. I had to continue serving since more people were still arriving: but I couldn't help but wonder what kind of trouble she must have gone through to end up here. What happened to her? Where's her family? Are they looking for her? These thoughts made me palpitant, and all I wanted was to sit down and talk to her. Talk to her. Like a friend. I wanted to be there for her.
I began to sweat at the thought of talking to her, I scratched my head and played with my fingernails through the plastic gloves. And so I let my nervousness have its crown and never spoke to the girl. As we left Andre House and headed towards our bus, I saw the girl with a couple of other people looking like they were going to set up for the night. They were carefully setting matts on the filthy street next to the soup kitchen and some were already sleeping, wrapped up in old raggedy blankets trying to keep warm from the cold desert ground. My heart shattered. How was I going to leave these people to suffer when I was going home to a warm bed with clean sheets? But like everybody else, we left with an itch in our conscience and wishing we could change their lives.
I have done many community service projects but this one made me feel different. It touched my heart and made me realize how blessed I was to have a roof over my head, a meal to eat everyday, and a bed to sleep on after a long day. After seeing the position the girl was in, I understood that anybody could be put in that same situation. Those suffering from poverty or even having a lower financial stability are just like us: Human. Society has placed a wall between classes according to money or looks when in reality we are all the same.
I am thankful I was able to run into the girl who showed me the other side of what my life could have been like or could be like in an instance. To that girl I say thank you. Thank you for showing your courage against those who do not believe in you. And lastly, thank you for opening up my eyes to see the world as one equal place.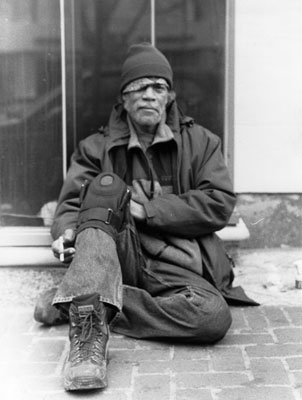 © Marie D., McLean, VA