HerStory: The Battle for Justice by Wives of Incarcerated Men
February 5, 2018
Through my work with Siddhartha Vashishta Charitable Trust (SVCT), an NGO which funds the education of the children of incarcerated citizens, I met Sabhiya – a short, slightly plump woman with an ever-ready smile and a booming voice that was unafraid to be heard. Sabhiya, whose husband went to prison seven years ago, recounted how she had been financially ruined after his conviction because she was ostracized by her community, who deemed her entire family as 'impure' (by association with her incarcerated husband), and hence unworthy of their consideration.
Subsequently, the social and economic consequences of incarceration became important to me; I could not get Sabhiya out of my mind. I began talking to more women whose husbands had been incarcerated. We discussed their challenges, the way they almost always lost their social network, were rejected by their husbands' families. I began the HerStory campaign, an initiative that aims to raise awareness on the stigmatization of women whose husbands have been incarcerated. Wanting to aid these women in becoming financially independent, I was able to fundraise successfully to help the handful of women I closely worked with; also, I held a vocational skills training workshop for the women between October and December 2017.
However, the scale of my project was small. Thousands of urban women are plagued by this crisis. What's more, this problem is largely ignored in the national consciousness – by both private enterprise and government policy. In India, there are no guaranteed state-sponsored welfare programs for single-income families whose primary breadwinner has been incarcerated. There are no subsidised legal mechanisms for these families to appeal convictions. Section 304 of the Indian Code of Criminal Procedure guarantees legal aid at the state expense if the court believes the accused lacks sufficient means to engage a pleader. Many of the women whom I had worked with described their bewilderment at not having access to a lawyer, despite being eligible for this aid.
In my view, lack of access to legal resources represents a serious human rights crisis in India. But the causes are, as with most policy questions, far less straightforward than they seem. It is not just a political issue, not just an legal issue, not just an economic issue; it is also moral and social and cultural. The Indian Code of Criminal Procedure assumes that the accused and their families are aware of their own rights and know how to approach courts; that legal aid offices are available in remote villages; that whatever lawyer is appointed has the conscience to do a professional job under such circumstances. There is not a single root cause. There are dozens, and each of these is amplified by India, multiplied by a billion people, by widespread prejudice and entrenched inequality and infrastructural weakness.
In India, legal representation is meant to be an unalienable right. However, when you start unpacking that, you discover issues of education and corruption and government accountability, which can intersect and interact to create more problems, more barriers. I am strongly in favour of judicial reform in India – but designed and implemented in a manner that more granularly reflects the evolving socio-economic conditions and realities for all Indians. The fact that Sabhiya – and untold women like her – have been effectively denied their rights is proof positive of the need for more responsive, sensitive, and localised policy solutions.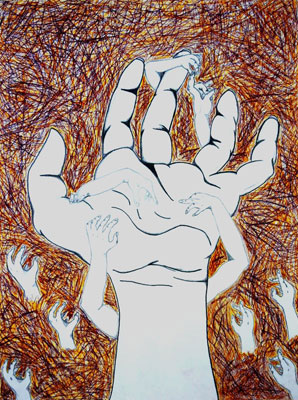 © Ariana R., New Orleans, LA