Save the Western Lowland Gorilla
April 5, 2012
In the classic 1998 film "Mighty Joe Young," a unique gorilla named Joe becomes orphaned after poachers kill his mother and surrogate human mother, Ruth. This doesn't just happen on a Walt Disney set in the 90's. Massive slaughters of gorillas have put the gentle Western Lowland Gorilla near extinction.
I remember as a little kid, my favorite part of the zoo was the primate cave. The orangutans were always amusing; the little monkeys were adorable; but what really got me was the powerful male gorilla. When he stood on his hind legs and batted his chest defensively just like in George of the Jungle—it was an out-of-body experience.
Hearing that these beautiful beasts are listed as number 6 out of 10 on www.allaboutwildlife.com, it makes me sick. I can't believe it because they are so majestic and royal—how people can overthrow their throne I don't understand. They live in many forests from ocean to ocean, but now their primary residences are zoos.
The males are also prone to heart disease issues, which is another factor in their death. If we could find a cure—if scientists could quickly focus on the gorillas, with hundreds dying each year—to end their heart disease, we'll save a whole bunch of these incredible creatures. They do not harm anyone without being provoked. They've done nothing wrong. Why are they being forced into cramped, uncomfortable zoos because their numbers are so minimal? It seems like humans feel like it is their duty to either save them—or do away with them.
You decide which side you are on in this ever-going process to save the Western Lowland Gorilla. If we could just create something that would help them—to find the cause of their heart problems and fix it before their life is up—would be life-changing. And also, cracking down on gorilla poaching all around the world is key to their survival rates. No animal is worth illegally shooting just for some extra pocket money. Lastly, we need to give back to these amazing creatures and allow them some habitat to roam freely. Zoos these days aren't providing sufficiently for animals on the endangered list. The zoos publicize the animals and give them food and shelter, but they don't help the species that aren't getting special treatment, the animals that are suffering in the real world with no squishy lifestyle where their friends and family are getting shot and killed left and right. The Western Lowland Gorilla deserves to live. All of them.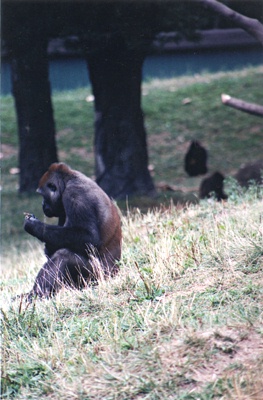 © Michelle P., Pittsburgh, PA