Destroying Depression
December 25, 2008
Everyone has moments when they just don't feel good. Sadness and depression among teens is very common. With depression prevalent and manifestations of pain and depression like cutting receiving more attention, here are some simple suggestions I find to be useful in getting up from feeling down. Not being a doctor I can't say for certain that this will help you but it has helped me.


I.
Diet. What you eat is very important. Sometimes by eating too much junk, our bodies become over stressed and our mood drops. When we eat things that are life sustaining and healthy, our moods elevate and our brain functions at a healthier level. The saying you are what you eat while cliché is at least in this case applicable. Eating healthier, drinking less soda, and taking vitamins all help over the long term. When we are depressed we are tempted to go for "quick fixes" like chocolate or in my case fast food, this just makes it worse in the long run though. By eating better you will feel better.

II.
Exercise. It is incredibly important to exercise. I'm not saying you have to become a professional athlete, but a good run or playing a sport can help immensely. When we exercise chemicals called endorphins are released, this act as an instant mood elevator, and can be very helpful for fighting depression. It also can relieve tension in a healthy way. The more you exercise the easier it becomes. An added benefit from even doing small exercises is that you will get in better shape and look and feel better then you did before. It only takes ten minutes a day, but those ten minutes can make you feel much better. If you don't like going outside, then turn on some music and dance, play Dance Dance Revolution, just move it works.

III.
Get Fresh Air. We spend much too much time inside anymore, getting outside can help us get a new perspective on things. While clinical results are still pending it has also been suggested that getting sunlight may help relieve depression due to Vitamin D which the body makes naturally when sunlight hits the skin. Besides the chemical value, getting outdoors can do a lot mentally. Being outside we have opportunities to use all of our senses, and gather our thoughts. We are able to see and feel things that being inside we can't, and sometimes this can help us get perspective or calm down. Spending too much time outdoors alone when you are depressed may be counter effective though. So make sure you spend time with other people or move on to other activities.

IV.
Volunteer. This one is personal for me because I enjoy helping other people. When I am depressed, or not feeling like myself, if I get out and help other people it helps me. Doing Volunteer work can be as simple as picking up trash at your park, or it could be involved like working at a homeless shelter or soup kitchen. Maybe doing something for the environment is your thing. There are a lot of groups out there that need people to volunteer. There will be something out there that will resonate with you. Many Churches and Synagogues have volunteer programs, if you are religious. When we do things for those less off we can often see how good we actually have it. Seeing the suffering of other people often makes ours the more bearable, and gives us a defined sense of compassion.


V.
Art. Art is powerful. Whatever you define as art, painting, writing, playing music, sculpting, dancing, whatever it is art is medicine. Art can help us resolve our emotions, give them solid thought, and relieve some of our frustration. Art is a gateway to the human spirit. Art can move us in ways that nothing else can. When we get creative we use a different region of our brain then for logical thought. Being Artistic can cause us to look at things in an abstract or different perspective. Art can also be very helpful for releasing blocked emotions. You don't have to create a masterpiece just enjoy being creative.

VI.
Friends. Spending time with friends can often be helpful when feeling down. Friends can get us laughing and having fun like no one else can. Friends also can see things differently than we do. They can give us a unique perspective on things. Friends can get our minds on other things, and sometimes when were sad, being alone is counterproductive. We may think we want to be alone but in reality often times human companionship is healing.

VII.
Spirituality. If you have even the vaguest belief in God, investigating spirituality can be very uplifting. If you are already a spiritual or religious person and belong to a tradition, then you may find attending services and meetings helpful. Sometimes talking to religious leaders can also be helpful. In the end spirituality is about you and God through faith. Getting involved with a faith or spiritual community can be uplifting in many many ways. Go to church with a friend, read Holy Books, talk to family, there are a lot of ways to investigate spirituality and religion. I personally come from a Christian background (Anglican currently with other influences) and meet with my parish priest every Thursday to discuss things like politics, warfare and the meaning of life. Religion and Spirituality play a very important role in my life.
These are just some ideas that have worked well for me. The teen years are often fraught with emotional highs and lows. Having a few simple ways to help handle the low points can be life saving.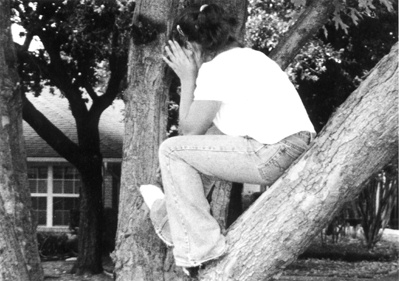 © Allyson S., Highland Village, TX