The Weed
MAG
The glass doors flew open with the wind. I heard laughing, voices and then silence. I looked up from my Wendy's Greek Pita and saw a group of young African- Americans in front of me. As I scanned the group, I realized their silence was directed toward Andre and me.

"Hopkins," one of them read aloud.

"Is that a high school?" another questioned.

"Yeah, private."

"Oh," remarked another, as if that explained everything.

"They're reading my jacket," Andre said through a forced smile. His white teeth shone next to the darkness of his skin.

Every time I looked up, I caught a member of the group staring in our direction. After they ordered, they chose a table behind us. As each swished by in his Nike wind pants and Fubu jacket, I pretended to be intently interested in the napkin dispenser. There were a dozen other empty tables, but the group sat down behind us.

Throughout my meal, I could feel their eyes on my back.Andre looked up once or twice, and his eyes lowered each time. Finally, after one last glance, he took my hand and whispered, "Let's get out of here."

As I drove Andre home that night, I remembered one of the times I had gone to visit my relatives in Oklahoma. My nana and papa had taken my brother and me to McDonald's. As we ate, an interracial couple sat next to us. To my surprise, Nana preached to me and my brother about the couple's sins. I remember my papa hiding his head in shame and telling her to quiet down. When we got back to my grandparents' house, I ran to my mom and told her what my nana had said. I asked what Nana would do if I married a black man and my mom replied,"Well, she'd just have to live with it." My mom assured me the most important thing is that I marry someone I love.

As we approached Andre's street, he asked if I was okay. "Yeah, sure," I responded mechanically.

I wanted to scream. I wanted to scream to the world how much I hated every black and white racist. I wanted Andre to take me in his arms and tell me the group in Wendy's didn't matter. I wanted him to tell me he felt the same way.But I didn't scream and Andre didn't take me in his arms. Instead, we drove on in an overwhelming silence.

As I pulled up in front of his house, Andre took my hand and gave it a squeeze.

"What?" I asked.

"Nothing," he replied. Somehow, this made everything okay.

I dropped him off and drove home in silence. Somewhere in the back of my mind, I had assumed Connecticut was free of racism, or at least New Haven was. In some way I had accepted the racism of my nana, excusing it because of her age and location. The group at Wendy's, however, was young, northern and apparently just as racist.

A few months later my mom handed me an article from National Geographic about an interracial couple living in England. As it turns out, London is very accepting of interracial couples, whereas the U.S. is not. Andre and I have experienced angry stares and wild whispers; the disapproval is apparent.

Over the past few months, I have perfected the art of being oblivious. With each passing day, I find myself more willing to turn my head and simply look in the opposite direction. I know I will never be able to root out racism, but I also know I will not allow myself to be pulled down by it. In his own silent way, Andre has given me the strength to turn my head and move on.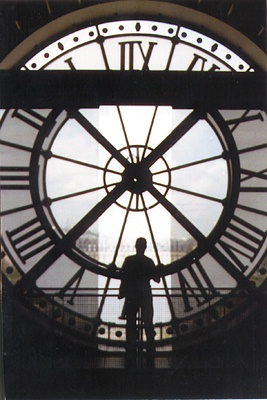 © Kelly G., Norwell, MA