Perservere
March 29, 2015
Perhaps an introduction is in order.
We are fields of graves, bone-dust lying soft beneath the earth, footnotes in the annals of history. We are housewives, warriors, mothers, witches, healers, poets, inventors, philosophers, seekers, servants, royalty. We are young and old and middle-aged. We are the line of relentless faces in front of The White House lawn, the chaffed, frozen fingers gripping banners of purple and gold. We are wombs that hemorrhaged from the unforgiving wire of coat hangers. We are the tender and unbreakable who raised generations under the weight of our sex.

We are legend. We are life-source. We are women.

In any case, we have something to tell you, our daughters, who are so defeated you can barely find a reason to go on. Listen.

You come from the guts of the Universe and are equipped with more power than our society knows what to do with. From cradle to coffin, you face a world which tries to snap you in two at every chance. You are branded with labels as soon as you're old enough to attract attention. You are s***, w****, weak, silly, inferior, dim, useless. You are good for your body and if your body is not good enough—if your hips are too wide for sexy and your breasts too small for beautiful and your hair to rough to be desirable—you aren't worth anything.

Each time you turn on the television or computer or step outside your home, you are assaulted by what you should be, told to go to war with your sense of self. You're something always in need of fixing and this only intensifies with time. You are naturally unclean, too wild for your own good. Men won't touch you unless you are smooth, supple, and hairless—practically childlike. They shudder at any mention of the monthly blood flow between your legs and the way your abdomen clenches and aches, proof that you can create life.
Your most base rights and liberties are still (God, still) the source of violent political warfare, because Human does not apply to Female. You are raped in billions of ways, stripped and stripped of your dignity, your power, and those sweet stars in your eyes. You stand in the center of a great mob, and their spears are all pointing at you.

We burn for you, are enraged to the point of combustion. We'll never forget what it was like to be in your place. The memory of such oppression will always be imprinted within us, reverberating long after death. Our softest, deepest apologies are with you, as is our softest, deepest admiration. We hope you can feel it.

We hope you'll put down your despair for a moment, listen to your heart drumming away, and remind yourself that your subordinance is man-made. You are crafted of the same atoms as Eve and Joan of Arc and Cleopatra, your strength is infinite. You are pure helium, rising, reviving and resurrecting, again and again, on and on.

Lift your chin, raise your eyes, and breathe from the root of yourselves. Don't be frightened; we are with you. The fight goes on.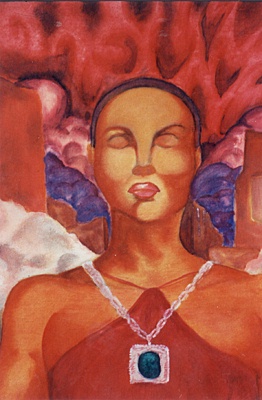 © Marcus B., Phoenix, AZ