Novel Making
October 30, 2011
There are three chief qualities of Book that shine in my interest-eyes. The characters Book spawns, the plot Book follows like religion, and the style Book speaks with, like an accent.

Book is there when I need him/her, and never does change his/her voice. Book is a masterpiece by the thousands, yet each Book is connected by one core, one shining light. That light is…well, I'm not sure. I guess the similarities that they are all printed on pages and their pages are numbered one, two, three, four, five, and they all have spines to hold them up against critics who hammer their God makers down to the floor and make them bleed and burn until they wish they were in Hell.

I am a God maker of Book. The life of a God maker is a funny one. Sometimes, with some God makers, the God maker can pay attention to Book at a scheduled time. That is fine and good with them, they can start making and prodding at Book, who's waiting diligently on the dissecting table, the desk for all God makers everywhere.

Other God makers hear the sudden moans and whispers and groans, grunts, hollers, shrieks, murderous yelps of pain from Book and rush toward them with a maternal need to be with Book. They drop whatever homework they have, leave their paperwork to gather dust, to finish their creation until the pain of Book passes as new life is breathed into it, then, and only then, can the God maker return to their other desks and continue less exciting work. Less alive work.

It's the simple need to write that keeps many God makers alive. Surely, it's all well and good for one to write for money. The Devil won't burst out of the furnace to grab a selfish, money-wanting writer and destroy his work because of his dreams of money. That money-writer will be blessed not with the satisfaction of getting a story off his shoulder, but with the lesson that those seeking to penetrate the God maker's world for nothing but money will be thrown off a cliff by those God makers.

It's the way the world goes round.

I sometimes think of the fame, the money, but that's the colors to the playground. If I was presented with a grey playground, the color grey, or maybe brown, it would be no less fun than a colorful playground, all painted and making my eyes explode. The colors are just a tidbit, a side dish, that make the experience all the more fun. Other God makers know what I'm talking about.

Writing is the way I speak. I want to be known, be heard! And this is the way I can successfully portray and weave the rhythm of my voice, my emotions, and my language. Hear me and weep! Hear me and yell! Hear me and be touched! Hear me and criticize, change your life, break free and bar yourself in!

For the love of God makers, Book, whatever pushes some feeling in your head! Hear me and do SOMETHING!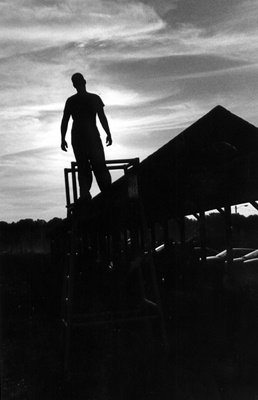 © Brianna L., Marblehead, MA