Actress, Georgie Henley
August 25, 2011
July 26th, 2011 I have deemed as the best day of my life. Why, you may ask? It was the day that I got the e-mail that I would be interviewing my favorite actress, Georgie Henley.

If you are a fan of The Chronicles of Narnia film adaptions, then this name is familiar to you. She plays Lucy, the youngest of the four Pevensie children; the first to discover the magical world of Narnia; the first to see Aslan upon their return.

The Voyage of the Dawn Treader premiered in December, thus ending the Pevensies' adventures in Narnia. (For the time being, at least.) In this interview you will hear Georgie speak about her favorite memories from her time spent in C.S Lewis' magical world, the filming of Dawn Treader and her thoughts on her cast mates.

* * *

RH- Tell us a little about yourself.

GH- My name is Georgie Henley and I've just turned sixteen years old. I'm an actress and am best known for The Chronicles of Narnia series. I live in Ilkley, West Yorkshire and I have two older sisters. I've just done my GCSE exams.

RH- How did you first become interested in acting?

GH- I don't really know where it came from. I always used to try and make up Harry Potter plays with my friends but I think the first time that it became a real interest for me was when I was cast as the main role in my school Nativity play. I was Baboushka, the granny who didn't believe in Christmas, and I dropped a jug by accident. Everyone else on stage just looked at me and I picked it up and said "Oh these shaky hands of mine!" It doesn't sound like much but since then I've always loved acting.

RH- What was your reaction when you first found out you got the part of Lucy Pevensie?

GH- It was a school morning, (a Friday, I think) and I was having my breakfast when I got the phone call. I just ran through my house screaming for about ten minutes.

RH- The Voyage of the Dawn Treader was the first film with just you and Skandar; Anna, William and Andrew didn't have as big of roles this time around; how was that experience?

GH- I think that it's good to have new experiences and I enjoyed working with the new additions to the cast and crew so much that, although I would have loved Andrew, Anna and Will to be more involved, I didn't see their absence as something which took anything away from the amazing time I had doing Dawn Treader. Of course I missed them though, we're like family!

RH- What was your favorite part of filming Dawn Treader?

GH- My favorite part of filming Dawn Treader was our amazing cast and crew. It was so great to see so many familiar faces returning to the series. We really are like a family which comes together every now and again to share fantastic experiences. The additions to the cast and crew, like Michael Apted and Will Poulter, were also great. I loved working with everyone.

RH- How did you feel about the change in Lucy's personality?

GH- I think it's great that Dawn Treader shows that Lucy is growing up and developing different sides to her personality. Although she's still this lovely, sweet girl, she's going through changes that every teenager experiences, and I wanted to make her as relatable as possible.

RH- Going into filming this movie, you and Skandar knew that this would be the last time either of you would be in Narnia (at least for a while); what sort of an atmosphere did that create?

GH- I don't think that Skandar and I thought about the end until we were there, actually. We just enjoyed the experience while we could and only thought about not returning when we had to! Every now and again I would think, "That's the last time that I'll have a Narnia stunt practice" or something like that, but it wasn't on my mind, which was good.

RH- How have the four of you changed over the past seven years?

GH- I guess we've all grown up somewhat but we're still exactly the same people.

RH- What is your favorite memory from the films?

GH- One of my favorite memories is from the first film: I had my ninth birthday on set and it was just the most amazing day! My family flew out to see me on the day, and I hadn't seen them in ages, so I was so happy. The crew decorated my trailer for me and the school teachers, photo doubles and cast baked party food and we had a mini party in the schoolrooms.

RH- You have traveled all across the world while filming the Narnia series; what has been your favorite place to visit?

GH- I've liked everywhere that I've gone. I don't think I can pick a favorite place! I really loved spending time in New York and Japan, and New Zealand is an incredible place. My mum and I found Prague a very easy city to live in and it's beautiful.

RH- Skandar Keynes is one of my favorite actors. What is it like working with him?

GH- Skandar is one of the most intelligent people I know and you can see it in his performance which is why he's such a good actor. On a personal level, Skandar is hilarious and very easy to be around so we always have a good time together on set.

RH- What is your favorite Narnia book and character?

GH- My favorite Narnia book is The Voyage of the Dawn Treader and my favourite character is Puddleglum, the marshwiggle from The Silver Chair.

RH- There is much debate about whether you are on social networking sites such as Twitter and Facebook; can you give some clarification to your fans.

GH- I don't use any social networking sites but there are a lot of impersonators so all my fans should assume that any account under my name is not actually me.

RH- What advice do you have for aspiring actors?

GH- My advice to people who want to act is to watch good TV, theatre and films with good actors. I'm always looking at other people's performances and learning new things. Also the best thing to do is to gain confidence, whether that means standing up in front of a few people at your local drama group and doing an improvisation or performing on stage in front of an audience.

* * *

As the years go on, I hope to see Georgie go far with her career and continue to grow into the wonderful young lady she is becoming.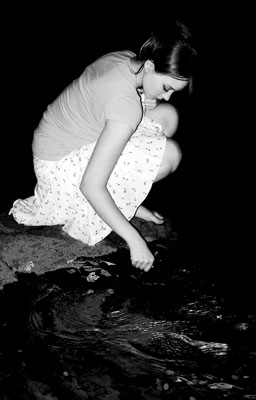 © Michelle B., Blairsville, GA