Photographer Alisha Cline
November 29, 2011
Cline Photography is known for taking dreams and turning them into reality through one of a kind portraits. I was recently given the opportunity to interview Alisha Cline, the founder of Cline Photography, for Teen Ink.

Rachel- Tell us a little about yourself.

Alisha Cline- Originally from San Clemente, California, I moved to Georgia with my family in 1993. I am 27 years old and own my own successful photography business, Cline Photography, and an art gallery called Arts on the Square. Besides photography I enjoy painting/drawing, graphic design, refinishing/re-purposing old furniture, and spending time with friends and family. I also enjoy listening to my husband, Josh, play bass, mandolin, and sign in his band. Josh is also a photographer and the "light guy" for Cline Photography. We live and work in the small town of Adairsville, GA with our Ausie Sheppard/Great Pyrenees mix Ginger.
  
RH- How did you first become interested in photography?

AC- I have always been artistic. I remember shooting with a film camera when I was little, but my love for photography started when I was about 12. My parents gave me a camera to run around with at horse shows; to this day Equine photography holds a dear place in my heart.
 
RH- What is your favorite subject to photograph?

AC- Musicians! I love shooting live music! The energy, the expressions, and the emotion that comes through in the photographs of the musicians are phenomenal! There's nothing else like it.   
 
RH- What has been your favorite photo-shoot that you've done?

AC- There are many, but the most recent has been for the band Paris Luna at the Atlanta Braves pre and post-game shows on September 3, 2011. It was one of the largest crowds I've had to shoot in and loved the challenge. I had never been to a baseball game before, so it was another perk to making the shoot one of my favorites.
 
RH- Who has been your favorite person to work with; whether another photographer, or person that you have photographed?

AC- I have to have my husband, Josh, at the shoots! He's my best friend, light guy, my second shooter, and makes shooting much more fun! I get bummed when he can't go with me.
 
RH- You have photographed many sports figures, such as baseball players and equestrian riders; are you fan of sports?

AC- I'm a huge fan of equestrian sports, especially Eventing. I competed nationally for most of my childhood through college in USEA Horse Trials and on teams. The adrenaline rush is like no other!

Baseball is great too; after all it is the favorite American pastime.
 
RH- Tell us about working with Bobby Cox.

AC- We shot portraits for his family, they are really sweet people. Honestly, I didn't know who it was until his wife pulled out a little Braves jersey for their granddaughter with his name and number on it. I liked the fact that they didn't draw attention to who I was working for. I put enough pressure on myself to do a great job, I think it would've made me pressure myself even more, causing me to over think the whole shoot and not letting it happen naturally.
 
RH- What is the most surprising thing that happened during a photo-shoot?

AC- Figuring out that I was shooting Bobby Cox's family!
 
RH- Who has been your favorite person to photograph? 

AC- My favorite person to work with has to be Samantha Plott. She holds many titles in the pageant world, but it one of the most down to earth, positive, giving people I have ever met. She has been hiring us to shoot with her for four years and every session is unique. She's not afraid to get her hands dirty to get a shot; she's been up in trees, trashed a dress in a creek, and even "hitch-hiked" in the very small town of Fairmount. She knows what it takes to get a great shot and nails it every time.
 
RH- If you could work alongside any photographer, who would it be and why?

AC- I would have to go back to the great, late Arnold Newman. His composure of his images and his use of light is amazing. To learn how to shoot black and white photography from him would truly be a chance of a life time.
 
RH- Who do you count as your inspirations?

AC- Any artists, famous or not, in any medium, that can capture my attention through their work and make me study it. My inspiration can come from movies, painting, other photographs, etc. The pieces that inspire me have three things in common:  unique use of composure, lighting, and setting. I pick apart those works and figure out how to use the bits in my photography to make it better.
 
RH- What advice do you have for aspiring photographers?

AC- #1. Learn the business side of photography. Find a photography company that will let you apprentice with them. There's so much more than just taking pictures. Everything from proper writing skills, speaking skills, people skills, and managing your time and money; it's all so important.

#2. Learn to shoot with film and develop it. Not only is it fun, but it'll truly make you a better photographer. Understanding how to make the correct exposure in the camera and editing correctly will transfer over to digital and save your post-production time (which goes back to managing your time and time equals money)

#3. A professional photographer can make a professional image with any camera.  It's not the camera that makes professional images, it's the user. The market is over saturated with camera owners that went out and bought a name brand so now they are "professionals". Learn your equipment inside and out, study all forms of art, and most of all be true to your own style. Knowing what your true style is will bring your confidence and people will book with you.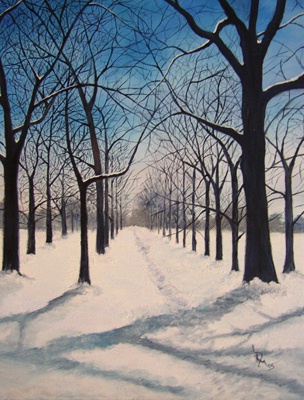 © Lauren M., Scotch Plains, NJ