Musician Kurt Cobain
MAG
Kurt Cobain said, "I'd rather be hated for who I am than loved for who I'm not." He's best known for his remarkable blue eyes and signature scratchy voice. He was loved for his good looks, immense talent, and rebellious ­personality. He's credited with changing the face of rock music and introducing a new style that would shape the 1990s, and he's still missed after his tragic suicide. Kurt Cobain was the front man of the Seattle-based band Nirvana, and he is best ­described as my hero.

I believe a hero is anyone who is an influential figure, whether positive or negative, and who has affected one's life or outlook. A hero need not be a role model, since one doesn't necessarily have to emulate his or her hero. But inevitably, heroes are needed in the loneliest times.

Nirvana is best known for their second album, "Nevermind," in 1991, which went platinum ten times in the U.S. alone, along with their 1993 Unplugged performance in New York City for MTV. "Smells Like Teen Spirit" is widely regarded as the best song to come out of the '90s, and while such success seems appealing to the average dreamer, it was the cause of Cobain's emotional downward spiral. Humble and shy, he came to regret his rising popularity.

I feel the utmost empathy for Cobain. His music speaks to listeners beyond its melodies and lyrics. There is raw emotion and human feelings we can all connect to, and most important, true passion. As a musician too, I am deeply moved by the power in Nirvana's songs.

Kurt Cobain was a nomadic teenager, traveling from one family member to the next, with the dream of being a musician from an early age. He joked that he had "suicide genes," as many deaths in his family were deemed suicides. A victim of a painful stomach condition, Cobain claimed his ­heroin addiction eased the aching that accompanied his illness.

Though he died before I was born, it seems as if our lives are parallel. Like many, we faced serious issues, especially during our teenage years. That, along with my love for grunge and my musical aspiration, creates my connection with Cobain.

Why, you may ask, would my hero be a drug-addicted, suicidal rock star? It all seems fairly romantic and typical of a rebellious teenager. The answer: I admire his creativity and personality, along with other aspects of his character. He was known to be an exaggerator, even a liar at times, and he certainly made mistakes in his life – all reminders that Cobain was, in fact, human. And he dealt with his problems with habits that I aspire never to imitate. I have learned lessons from his mistakes. He was brave enough to put himself in a position where he knew he would be uncomfortable, and I like to think that it was only to show kids like me what not to do. What better way to teach than to scare?

My hero lived a life that was short, violent, and inspirational, like many of his songs. He changed music completely by ending the '80s hair-metal craze and ­giving birth to grunge-rock. He was raised by tragedy and nurtured by hopelessness. He was a victim of addiction, heartache, depression, and disease. He was also a victim of his own actions. Cobain's songs are recognized worldwide to this day as the work of a musical genius and a great man.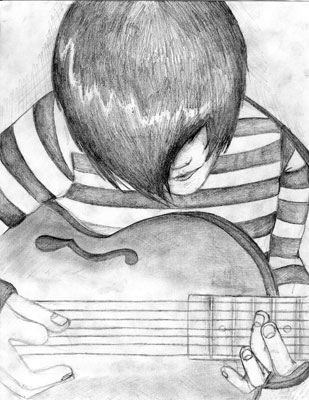 © Amy R., Yardville, NJ