To all my readers on Teenink, please read this!
June 15, 2010
Dear Teenink readers
Okay, I'm really not used to doing this. Talking about myself I mean. Usually when I'm writing its poetry about other people and the problems they cause for me, or stories about people who never really existed in the first place. I can't even keep a diary without turning it into a novel. (You may think that this is a Hyperbole, but you would be sadly mistaken.) So this really is quite odd to me.

But I felt like it was something I needed to do. I mean I've had work up on Teenink for so long that I've forgotten what my life was like before this. I stumbled upon it one day, quite by mistake, and it's turned into a phenomenon that's working its hardest to shape my life and my writing career for the better.

See, I'm the kind of person that lives off positive feedback. Tell me my poetry's good, and I'll write a hundred more. I guess it's sheer luck that the people on Teenink seem to find my work to be not only readable, but also quite pretty and well-written too. I'm always surprised to open up my email and find another comment from someone who genuinely likes my work (and isn't just commenting so that I'll go comment on theirs in return, further proof that most humans have purely selfish motives.) Sometimes it's almost hard to believe that my poetry could possibly land on the top voted list, with people who most certainly could make a career out of publishing literary works. Half the time I imagine that there must be a mistake.

But no, no mistakes have been made. From the comments I can tell that. You guys really have no idea how often I've been brought to tears by the occasional "nice job!" I receive from someone who stumbled upon my poetry. Even more so the people who gush their affection for my writing, favorite it, and then run to tell their friends or post it to facebook with the hopes more people will be able to enjoy it. These are the people that keep my hope well alive when things go downhill.

You see, I've always dreamed of being a writer. A real writer, the kind who's books are on shelves in every bookstore in America, and maybe even worldwide. Maybe when I was in second grade it made a little bit more sense. At least then every other kid had foolish plans. Timmy wanted to be a Movie Star, Sarah wanted to be a princess, and Hannah wanted to be a bestselling author. It wasn't exactly a normal wish, but at least my parents thought I had plenty of time to outgrow it and move on to something reasonable. The only problem was I didn't.

Anyway, I've had a lot of rejection, and a whole lot of pain, but my readers on Teenink have gotten me through it. I just wanted to thank everyone who's commented, rated, and even read and clicked away silently. Some people will actually take the time to go rate all 60-some of my works one star, and it breaks my heart. If you people are reading this: I don't mind you rating my poems poorly, but could you at least tell me what you don't like so I can improve?

As for everyone else, another reason I wrote this is because I don't like being just a name. I hate being seen as only words through a glowing computer screen. I want to have a face to all the readers. I want them to see my long layered blonde hair. I want them to know the look in my blue eyes as I eagerly spit words out onto the keyboard. I wish you could all see me now, laying on the patio in a green sundress by the pool, wishing I could jump in to escape the heat. Of course I can't, my mother's cooking dinner inside and besides that, the chlorine would turn my hair green.

So instead I'll keep writing. I'll work on one of the two novels I have going right now, then maybe call up a friend and make plans for the beach tomorrow. I'm not just a face to them. I'm a real girl, who laughs too loud, loves speaking in front of large crowds, and doesn't own a pair of shorts or more than one pair of jeans, because I love to dress up every day. I'm a girl with feelings, and a love of Alice in Wonderland (I'm told we bear a striking resemblance actually) and a girl who loves to write. I hope that for all the people who love my work out there, this writing helps you know me better.

So I really must go, but I'll be back soon. If you have any questions, any comments, any nagging concerns, I would love to hear from you. I promise I'll reply to every comment I get on this, even if it's nonsense. Thanks dear readers, I really couldn't have made it this far without you.


Hannah B.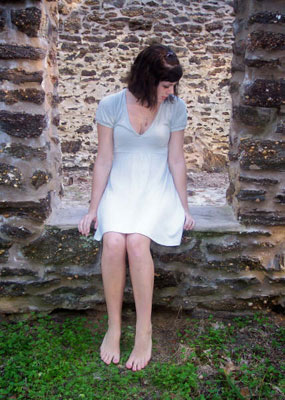 © Katie S., Vineland, NJ