Dreams of Glory
April 5, 2009
The soldier totes his M16 on his shoulder, bayonet affixed and gleaming in the Japanese sunrise. He takes a photo from his pocket. It is a picture of a woman, dressed stylishly for the times, and with a look of calm intelligence in her eyes. He puts it back almost reverently, and marches on.

Mines, grenade, gunfire, exploding in all directions with a noise impossible to describe to those who've never seen the elephant. The terrors of war. Men fill the trenches across the battlefield, so dead, some still firing, some reloading their guns and preparing for another round. But the soldier is engaged in close combat with the Japs, slicing and dicing his way through them like thick jungle vines.

Nightfall meets a sad scene. Bodies litter the fields like so much roadside litter, left to the crows for the night. Our soldiers emerges victorious, carried upon the shoulders of his comrades, his head high, and his face dirty with the dust and sweat and blood of mortal combat.

And there on the stoop is the woman from the picture. She seems to be trying to say something…

"Wayne, come inside and wash up for supper!"

"Yes Ma!" Our hero places his trusty broomstick back against the side of the house, and runs inside to wash up.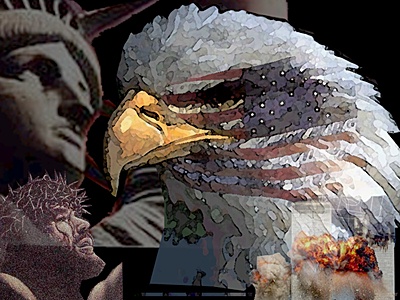 © Casey Rodkey, Lewis and Clark, MO