Anywhere But Here
October 17, 2009
Anywhere but here. Oh, God, please, anywhere but here.
My mother sat behind me, braiding my hair. The tile was cold, causing goose bumps for form against my arms. The cotton gown felt itchy against my skin.
The waiting room was filled with kids. Screaming, whining, bratty little kids. I shouldn't be so harsh. They, just like me, needed to blow off some steam before the big moment.
My legs shook as the nurse led me back to a bed. Everything smelled gross. Like plastic mixed with vomit. There so much medical equipment. Everywhere you looked there were needles, IVs, and other terrifying looking instruments of torture.
A nurse handed me a small cup filled with red liquid. Instinctively, I chugged it in one sip. ACK! I gagged. I imagine the plastic/vomit smell must have come from these meds I nearly threw up.
The pillows are scratchy too. And the blankets. They wheel me into the operating room, the wheels of the bed screech down the hallway. They place yet another smelly thing near my face, but this time, it's a plastic oxygen mask. They place it on my face, and I slowly drift to sleep.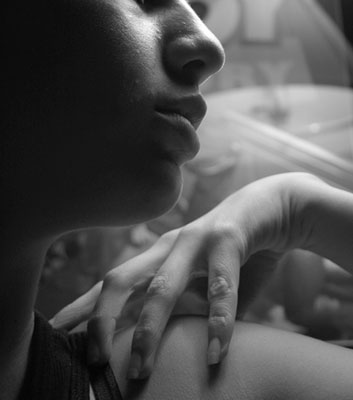 © Rebecca B., Santa Clara, CA