Zip Line
September 25, 2011
The wire swayed in the wind; the wire that I was about to swing down with just ropes and a harness. I could feel my face turn pale as I looked down at the faraway ending point. My hands gripped my harness as a feeling of nausea fell over me. I could see the pine tree tips in front of me and the crowding ant figures below me. I placed my feet on a metal plank that looked more like a piece of scrap metal that had been carelessly placed off the tower. I turned to my cousin who was barely stepping up on to the dropping point. She gave me a thumbs up with an excited smile. I threw a thumbs up as well, but my smile felt more forced than natural. I was about to ask her something when there was suddenly no support underneath my feet. A blood-curling scream rose up into my throat. I could feel my harness dip a little as it took on my full weight.
All my senses clouded. I couldn't see anything but the blur of trees. The wind formed a loud roar in my ears. Out of my disorientation, I heard a giggle. I turned my head slowly to the side expecting for my cousin to have gone crazy. Instead I saw a large smile and heard shrieks of pure delight. The same shrieks I had heard on the alpine slide just before this. All my fear dissipated. I turned my head forward to be met by the full force of the wind. Tears ran off my face as I picked up more and more speed. I screamed throwing my hands outs. I looked up to the cloudy sky and felt a sensation of flying. I never have felt so free. A jolt sent me flying forward in my harness. Just as it had started, it ended. A big smile escaped my lips as everything began to slow down. I started to laugh. A man dressed in the same uniform as the ones at the top came over and released me from the harness. As my feet fell to the ground, I was met with the full force of gravity. The heaviness bounded my feet to the cruel, hard earth. The roaring of the wind was replaced by a gentle touch of wind. I trudged over to my cousin. Her hair was all over the place as she tried to fix it with her eager hands. Her clothes looked bundled up around the areas were the harness had been.
I opened my mouth to ask her what she wanted to do next. Instead, she sprung forward grabbing on to my shoulders.
"Let's do that again!" she yelled already turning me around to the line for the starting point.
"Yeah," I said breathlessly. I could feel the anticipation rise in me and a joyous smile leave my lips.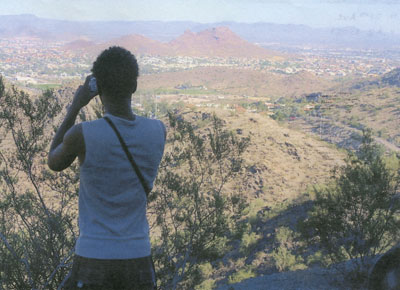 © Rashid E., Phoenix, AZ