Coming from a journalists point of view
September 5, 2009
News is all over the place but, do you know what it takes for journalists to gather that news information? Some may think negative about journalism but I believe that journalism is a very important subject in this world. It teaches students how to read, write and expand their vocabulary. While writing, it is okay to be yourself and write what you think interests others. Journalism is also a great source of food for the brain, and in some cases, the entire body. Aside from the negative response to journalism, I still believe it's superior because students and adults can feel free to jot down anything they wish, feed the brain with expanded words daily and be able to succeed in a good career long after college.

Next, I can share that journalism is a passion that I have always had and love to share it with others. The excitement and energy that I have after completing my assignments are like no other excitement I have ever felt. When writing, I am able to express my words, actions and feelings with no strings attached. No matter what the topic may be, I am always prepared for better or worse. When I say "worse," I mean the way my paper may turn out after the release of stress. Writing enables me not only to help myself but also help those who are reading my articles or short stories. I may never know what a person may be feeling on the inside but maybe after I have written an article called "Weights off your shoulder," they may come back down to the senses that everything is going to be alright.
From basic knowledge, I know that everyone loves to eat. And my favorite is a mouth-watering, fat, juicy sandwich. When I think of journalism, I think of my delicious fat sandwich. I have my top slice of bread, which is the beginning of drafting, my slice of Provolone cheese which is my new vocabulary words or my language. Then my slice of honey bake ham, which represents my enhanced writing skills. And lastly, my last slice of bread, which would be my last and most powerful quote from my source. All of this just to get my sandwich prepared for the inferior, which is me becoming a superior journalist. This sandwich is the only thing I need to become who I want to be in life. The ingredients I use to make my sandwich are the things that I teach myself or I learn from my teachers and others. So, whenever you need some good food for the brain, take a bit out of my sandwich or make your own that could lead you on your own journey to success.

Your journey may lead you to many changes, and changing for the better is always better than sacrificing yourself to nothing at all. College can, and I hope, may change my life to make me a better person and an outstanding journalist. Writing can take you to places that no one has ever been to before; I'm not talking about Spain, Mexico or Ireland. I'm talking about an outer space of your own imagination – meeting new words and phrases, winning prizes just because your work is awesome. These are the different types of things I looked forward to before becoming a journalist and when I made it, boy, was I amazed. Job opportunities lined up right before my eyes, like a newspaper called Forecast Magazine, Teen Link, and Today's Teen. I also got hired at a local movie theater for knowing how to write so well and the supervisor was interested in my work and my passion for writing. Colleges all over the world would love to teach students how to become better journalists. It's simple: find a scholarship, apply to the colleges of your choice, apply yourself to writing the essay required and complete all questions that are asked of you. It really is easy, if I can do it I know you can too.
Lastly, I think it's safe to say that I am never going to retire from writing. My life has never been better since I've started writing. The power to be open with myself and others, the daily food chain of words being fed to my brain, and the advanced help that I will be able to receive in the near future – it's all so much that I don't think I'll ever be tired of it. I plan to attend college and put my writing where my mouth is. I know that I will have the journalism job of my dreams and become successful in the future.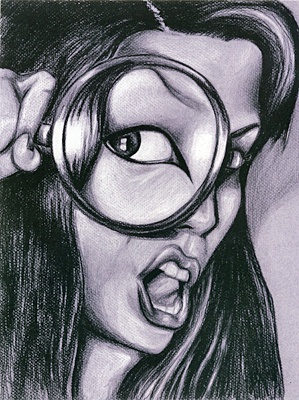 © Vivian V., Ozone Park, NY