Letting Go
November 20, 2011
I hold the one I love before it's time for them to go… that last embrace. I grip on tight, as if to make sure that feeling will stay with me until their return. But I know I must release them. "If you love something, set it free" as they say. But why must they leave my hands as if they were butterflies, just carelessly flittering away, beyond my view? Before they go, I practically memorize their face so I'll never forget. At the exchanging of farewells, I almost record their voice in my mind. I look in their eyes as I fight back the tears in mine.
When they're gone, I struggle as I try to remember what that hug was like as the sensation leaves my body. What they were like. I go insane as I almost start to forget their face from the absence, no matter how close the friend. No piece of paper with ink that mimics their face will ever help to fill the void between us. I shake as the acknowledgment, that I've been torn apart from the one that has always been considered family to me, begins to sink in.
Why can't those feelings, that embrace, come back to me? Why can't they come back? Why did I ever let go?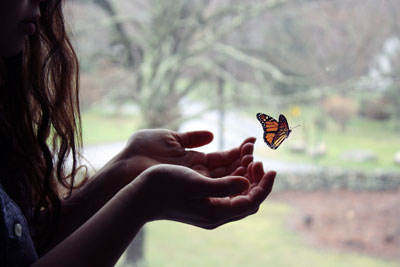 © Sandy H., Woodbridge, CT