The Battle to Fit in
May 31, 2012
A shy and lonely boy, wishing that a new friend would come into his life. To give hope in order to live. No, fit in. This is me.

Have you ever wondered why people join gangs? Or why people struggle to get attention from others in order to feel loved? Well unfortunately, all these issues that has been going around for a long time has to do with assimilation, or fitting in. no matter how many times you try to get along with others, there are always those stereotypical people that will say cruel and unjust things about you because of your color, ethnicity, and/or because of the way you speak.

In most cases, assimilation has to do with gangs and discrimination. People join gangs at the age of twelve, probably younger. They get involved in gangs because they feel like they belong in one, or because being in a gang makes them look like a tough bad ass. But study shows, the real reason to why people join gangs is because they are not accepted for whom they are by their family, at school or even in public. But why is this? I think it's because these innocent children are expected to have high expectations, far beyond than anyone else, so they can succeed and be the best of the best.

The struggle to fit in. everyone goes through it. Blacks, whites, Asians, you name it. "I'm not too black to hang out with black people nor too white to hang out with white people," states a student in Mr. Johnson's "Our Voices Data Set." In Latino/a culture, you hear about this a lot. Once you move to someplace new, you will carry your accent with you. Then people will automatically get the wrong idea and assume you're an immigrant. Prove them wrong.

In Latino/a culture, immigrants struggle to assimilate as well. All people deserve to fit in the environment. Fight for the right to fit in! Pebble Creek states, "Memories of racism during his childhood haunted Cesar Chavez the rest of his life." This amazing hero fought for the legal rights of farm workers. In Latin American studies, Cesar Chavez saved many people by fighting against discrimination by assimilation for Hispanics. When Chavez was a child, he remembers seeing a sign that said "No dogs or Mexicans" he was just so tired of all the discrimination he had to put up with. He went through spatial assimilation, but eventually got through it.

As a student, I struggle to fit in with other students and teachers.

I remember when I moved to Elk Grove from Nicaragua at the age of four, I didn't know any English at all. I learned very slowly, while carrying the accent with me for the rest of my life. People, of all colors, discriminate me for being myself. They make hurtful irrelevant comments like, "Grab your burritos and beans and hop back to Mexico." Or "Wash your hands before you infect us with the swine flu." I have managed to overcome all this crap and still live on with my life, although a piece of me died has died inside.

I wake up every morning wondering who would completely accept me for who I am. Why is it so difficult for people to get along with each other? Assimilation is a part of my everyday life, and I will continue to battle to fit in the crowd of Black, White, and Asian people. Everyone deserves to fit in the environment. I'm proud of being who I am today and don't care what others speak of me. I'm very talented in my own ways, and that's all that matters to me.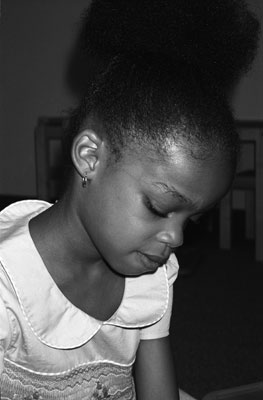 © Megan W., Ocala, FL