Being Grateful is a Choice
February 3, 2013
As I scrolled through Facebook, I saw the usual plethora of meaningless posts from people that I barely know or people that I wish I didn't. Sighing, I decided to just watch television instead. Just as I was about to exit the browser, a message popped onto my screen. Flashing. Waiting.

I noticed it was from a friend of mine who graduated last year and went to college. Weird, I thought. I haven't talked to him in ages. Making the decision to see what had prompted him to message me, I moved the cursor over to the blue box.
"Madi, is it true?" his message read.

My mind spun and bent over backwards trying to figure out what he was referring to. I responded, confused, "is what true?"

"That Noah died."

Every muscle in my body contracted. My heart stopped. I fell over onto my bed, hair spilling around me like an ocean, breathing stifled by my comforter.

My friend Caleb who was with me at the time spoke, probably asking me what happened, but I don't remember. I don't remember typing back "is this a joke," hoping with all my heart that it was. I don't remember seeing his response "no" and how my breathing came to a halt. I don't remember when Caleb wrapped his arms around me while my rag doll of a body sunk into him. All I remember is how Noah's smile flooded my mind, memories coming forward twenty at a time, forcing themselves to be remembered.

Nights we spent hours watching stupid YouTube videos, the day we went to the mall with "free hugs" signs but were too afraid to do it, the week he came to school not wearing shoes just to see how long it would take our teachers to notice, when he introduced me to bands that I hated at first but grew to love.

I sat up and pulled my hair behind my ears, looked down to see the black smears of my makeup left behind on my bed like scars. I turned to look at Caleb as he gave me a half smile, a crescent, like the moon - Luna, just like Noah used to call me. I collapsed again and while listening to the sound of the rain outside, decided it matched the rhythm of my tears. One, two, three, one, two, three. It sounded like counts of music - music, Noah's passion.

The only thing that I could think of was Noah. Everything I thought, if not first about him, eventually became him. I can't remember when I finally got up either, gathered every ounce of strength left in me to go tell my mom that my best friend was gone. Forever.

Six days later, as I looked at you lying there, it bothered me how you were drained of the blood that once pulsed through your body – the skin that you opened like a river by means of your own hands even when I begged you not to, stiff. As I looked at you, I realized not only did you look strange because of the make-up they put on you or the patterned shirt you would have never worn by choice, you looked strange because you weren't wearing your trademark smile. As I looked at you, I remembered the night I found out and how the pain from that moment hasn't gotten any less painful, it's just gotten easier to hide.

When I finally looked away from you, though, I looked around me at the sea of people who came to say goodbye to you. People who were touched by your existence and wanted to be graced by your presence one last time. I realized I should not be eternally sad for my loss of you, but that I should instead be eternally grateful to have known you.

It isn't everyday that you meet someone who can make you laugh even when you were crying minutes before, someone who you have so much fun with you never want it to end, someone who urges you to call them at four in the morning if that's what you need – someone who is there for you no matter what the circumstance.

So when I leaned over to kiss your forehead and whisper to you that I loved you, I don't want you to think that was me saying goodbye. It was me saying thank you.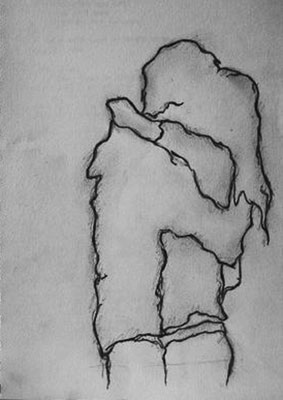 © Nicole B., Newcastle, WA