Hi, I'm the New Kid!
MAG
August 26, 2013
So I'm the new kid at my high school this year. And in the last five minutes I have introduced myself a total of 32 times. I'm thinking of handing out a flier that reads, "Hi, my name's Elizabeth. I'm from Cohasset, and I am a junior. Yes, I am excited to be at Salem High School. Yes, I am also nervous." But that's not very interesting.

I've got to capture their attention. Maybe spice it up a bit, add a nice hook. Maybe an envelope with bold font saying, "Will you be my friend?" Inside, the letter could read, "Hey, the name's Elizabeth. You can call me Abethica. I'm from a lovely beach town that no one's heard of. If you look in the envelope you will find the map I've enclosed. I am going to be a junior. I'm thinking of getting a letterman jacket for my SAT prep group. I am jumping with joy to begin my journey at Salem High School. Although the thought of introducing myself sent me into a fit of nail-biting nerves, I got over it after 32 introductions. I am now calm, cool, collected, and ready to mingle. If you continue to look inside the envelope, you will see the friendship bracelet I have enclosed, along with a wallet-sized school photo of me from last year. Sincerely, your new friend, Elizabeth."

Or maybe I could get a tattoo across my forehead: "Property of Elizabeth, who is lonely and looking for a friend in her new town." On the palm of my hand, I'll tattoo: "Hold if you want to be my friend." Don't worry, it won't be a permanent tattoo. I'll just keep it long enough to get over the hurdle. It'll be 99.9 percent washable, I swear.

Or maybe I could hire a robot to recite my introduction for me. Is that possible? I could carry it around with me. Stick it on a leash.

I'll wear a shirt with an arrow saying "Talk to that guy."

Or maybe I'll hire a puppy. People love puppies.

Maybe a giraffe: that'll make me stand out.

Maybe I could hire all the people I've met so far and have them carry me around on their shoulders.

Maybe I'll just not answer. They'll figure it out eventually.

Maybe I'll just answer them like a normal person, suck it up, and know I won't be new forever. I'll save the giraffe for my comeback tour.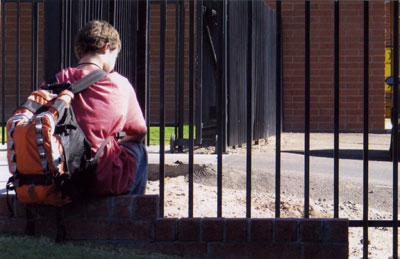 © Molly L., Phoenix, AZ