Into the Storm
October 30, 2014
Running around in a severe thunderstorm and tornado warning was not on my to-do list for the summer. I ended up doing it anyway. Who knew working at summer camp could be so dangerous? I had no choice, though. It was my sworn duty. Well, it was also one of the things I was paid to do, and I didn't want to get fired only two weeks into camp. Before I get to that part of that story, though, I should probably back up to the beginning.

It all started during the first week of staff training. We were sitting inside, going over emergency protocols. It was very boring at first. We were talking about things I was sure would never happen, like bomb threats and child abductions. Then we got to a slightly more interesting topic - severe weather, including thunderstorms and tornadoes. I found out that my job description included the most dangerous precautions: running in the bad weather to warn people, be the last person to get to the shelter, and above all, stay calm and collected the whole time. I almost quit then and there, but then decided it sounded pretty exciting to run around in a tornado warning. This was definitely not my best idea.

Two weeks into having campers, things were not going well. This had been the rainiest week I have ever seen. Almost all the staff were wearing rain boots. We were constantly using the land bridge that was about three feet higher than level ground, which kept us out of the mud. In the end, the weather got so bad that campers ended up sleeping in the storm shelter every night except one. We made sure that whenever it stopped pouring rain we sent the campers outside.

About day three, the rain let up for a little while. It was enough to make everyone want to go outside. I was still watching the skies cautiously, though, for any sign of green. My boss arrived to film a video about the campers.

"Ready?" I asked.
"Yeah," she said, but then paused to look at her phone.
"Actually, no. Tornado warning. Everyone run to the storm shelter."

She looked at me, and I looked at the sky, wondering where the tornado was. It wasn't even raining, and the sky was a normal color. Regardless, I had a job to do, so I started running. Suddenly, I noticed it was sprinkling. Then it started raining. Soon there was torrential rain. There was thunder and lightning everywhere I looked. I ran as fast as I could to the nearest set of cabins and started pounding on the door. The counselor answered, and I forgot all about the calm and collected part of my training. I just yelled loud enough for the whole cabin to hear,

"Tornado warning! Get to the shelter as fast as you can!"

That was one cabin taken care of, but I still had three to go to in my area. Some people describe a hype that gives them extra energy in dangerous situations. This is a real thing. I started feeling more excited than scared, so I ran from cabin to cabin. One counselor thought it was just a thunderstorm warning, so she asked if they should bring pillows.

"No!" I yelled, louder than I had intended,
"It's a tornado warning! Just run!"
Finally, I had warned all the cabins in my area, and I was allowed to get to shelter. By this time I was soaked to the bone. I thought everyone was safe, but then my boss said,
"Where's the third boys cabin?"

I groaned, turned to the door, and started running again. The hype was wearing off. I was starting to get tired, but I knew I had to look until I found the last cabin. By then, all I could think of is what would happen if I got struck by lightning. Luckily for me, they had heard about the tornado and had started walking toward the shelter already, so I didn't have to run quite so far. Eventually, everyone was safe in the storm shelter. I was more wet than I thought possible. My 2 layers of clothing were soaked all the way through. Now all that was left to do was wait. Even though I got soaked through, and it was really scary, I think it was worth it. I'll never forget that experience. It was very exciting, and in reality, it is what I am paid to do. I may have risked my life for those campers, but in the end it was nice to see them turn to me at the end of the week, smiling, to say, "Thanks. You were awesome."
Then they go on their merry little way.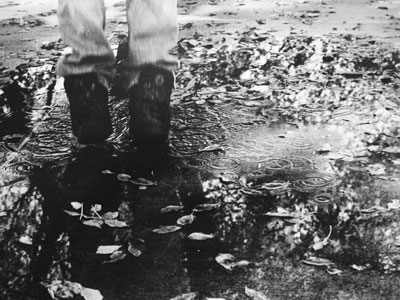 © Laura M., Eagan, MN