Little Girl
January 20, 2015
I'm putting you away, darling. I'm erasing your old play spots, closing the cellar door on all your dolls, pulling your fairy tales from the shelf and placing them in cardboard prisons. I hate doing this. I hate it more than I've hated anything in a very long time. You're my companion and we're in the midst of this tremendous game of hide-and-seek, only I'm not coming to look for you this time.

You'll stay where you are, be that behind the sofa, or in the yellow haze of the forsythia bush, or between the desk and the bookcase, and you'll wait and wait and after a while you'll think I've forgotten you. You'll watch as I recede from your world. You and your jars of seashells and fluorescent blue sneakers and half-finished journals crammed with the light and grief of an old soul in a young body will become dusty with time and neglect. It will hurt you terribly, I'm afraid, and nothing I can do will soften that blow.

This is the event I've been dreading. This is where I lose you. Here, now, beneath the sordid ache of eighteen, cross-legged on the floor of my room with tears up to my waist. We knew it was coming, didn't we? But we chose to forget about it, until later. We chose to dip back into the fray for one more game, one more dance.

"All things that go up must come back down," the physicists say, and so too must we, even though our heart is breaking into two separate organs and we are trembling from the split. This is where you crash and burn on the steep topography of change, violently beautiful, so I can excavate your remains and tuck them somewhere safe. This is where I fly on without you.

I will miss your fervor, your shadow, your hope, your mess, your fire. The absence of you beats in the root of my stomach already, a writhing emptiness. You sob to come with me, petulant, and my heart is a shaken fist. I wish I could bring you along, breathing and laughing, but I can only take you in an abstract sense.

In the pinkish memory of a little girl standing beneath a weeping beech while hundreds of monarch butterflies strip themselves from the bark and take to the sky. In the final words of a childhood poem—and so we crouch, waiting for the next miracle. In the grainy but electric candid of a small face bright with love. I can only carry your echo, smoke left over from a great blaze.

This, darling, is the way things are. No getting around it. I know how desperately you want to help, but your glitter glue and stuffed toys won't do much. It's okay, though. It's okay. I've got this. Let me handle the grit and decay from now on. I'm built for it. Rest for a while, alright? Go out and play.

Hurry. It's getting dark.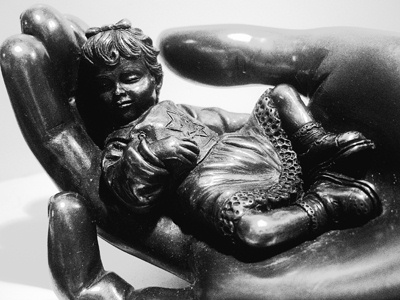 © Dat L., Worcester, MA