A List of Things I've Done Without You
MAG
August 25, 2017
We were supposed to do these things together. We talked about an intertwining future, but now I suppose you're talking about a new future with her. But it's okay. I'll still live out my plans and my future, but it just won't be with you. We won't take the cross-country road trip to Vegas, but I have a list of things I've done without you, a list showing that I can still go forward without you by my side.

The Beginning of the List of Things I've Done Without You: taken nightly pictures of the sunset. You might laugh at that, or maybe completely understand it, depending on how much you understood me beyond the things I told you directly. The sky changes so suddenly, and at dusk – when all the colors and clouds shift together in preparation for the moon and the stars – is when the sudden changes are most beautiful. And it shows that not all sudden change is bad, that sometimes it's beautiful and waited for and enjoyed.

I've also started watching more movies. It sounds mediocre and simple, but rediscovering my favorite movies for a few hours every week is enjoyable. Instead of watching new movies in theaters with you, I rewatched my favorites with myself. They're the movies that mean the most to me, that have the most impact on me, but that I also keep to myself. And for a few hours every night, I'm surrounded by familiar faces instead of the pain pinging in my chest now that I don't have you.

I started college, the thing I was most scared of, the thing that you reassured me about countless times. My first week was amazing, and I feel like it'll be amazing for many more weeks to come. I did it without you by my side. I walked into my classes by myself, and I found my way around campus by myself. Even though I know you aren't going to be there, I still look for your face in every crowd on campus, but I'm getting better for looking for new, familiar faces instead of your old, familiar face. And instead of worrying and devoting all my time to you, I'm giving most of it to my classes.

The End of the List of Things I've Done Without You: let go. I've let go of our intertwining future and grabbed onto my own. I've let go of trying to reach out to you constantly, just like that saying goes, "If you love someone, set them free. If they come back they're yours; if they don't they never were." I've set you free, albeit with words I didn't mean – words I wish to take back. If you loved me like you said you did, you'll eventually come back. But I'm not going to wait around and hold onto a fragment of what we wanted to intertwine together. I can't put my life on hold for someone who's continuing to move forward; I have to jump into life headfirst, no matter how scary it is, without you by my side. I have to go intertwine my future with everything I hope to accomplish someday.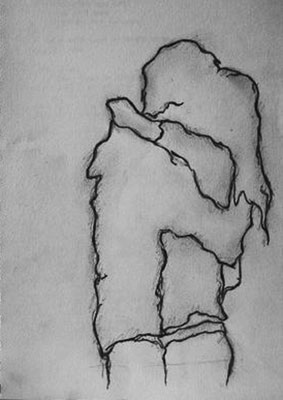 © Nicole B., Newcastle, WA