George Zimmerman and the quest for equal Justice
July 16, 2013
The case of George Zimmerman vs. the State of Florida, which has found Mr. Zimmerman not guilty, has sparked national concern. While I may have no watch every testimonies, watch every interviews and listen to every audio recordings, nor may I be a lawyer, as a black person living in this world that revolves around me, it has bring me to express my opinion in our quest for social change and equal Justice.

Throughout this nation history, black people have fought for social change, equality, and equal justice. Their voice has been threaten by man and law enforcement alike brutality, but in the face of evil, our quest for change have not ended, that's why leaders like Martin Luther King perish while fighting for change, that's why Malcolm X perish in the struggle, that's why hero's like Rosa Park was arrested simply because she refused to give up her seat. It is still this same fights were fighting today: that we blacks are human being too and deserves equality and equal justice.

In the year 2012, it was tested weather a black man can walk on the face of this earth with no fear, it was proven wrong. By assumption on the part of one man who claims Trayvon Martin was "up to no good" shot Martin and took away his life forever, a tragedy that have create concern of the dangerous world out there. I am writing my opinion because I fear I could be the next victim or a race of my, who through the eyes of men by the way we walk and talk, assumptions could be made that could easily take away our life's. What is it that others see in us blacks? Are we a menace to society? Can we not walk on the face of this earth like other men without fear? What is it with our government that it is not so hard to learn that people are dying by guns, but yet fail to do anything about it claiming the constitution guarantees bear arm, are we to live by it forever simply because it is written, and create laws like "stands your ground" law! What makes you (Zimmerman) following a teenage African American, and saying "these assholes always get a way" make you right? If it is true that he attacked you, I found that not a problem because he felt terrify and threating by an unknown person following him. Simply what I can say is that "two wrongs don't make a right" Deep inside you know what happen out there.

This brings me to my conclusion, while justice may not have been serve we hope the petition for a civil court will serve justice. And if justice shall not be serve on earth, it shall be serve in the life after. Our quest for equal justice will not die; from the death of Emmett Till to Trayvon Martin, we are their voice, these words speak loud and the dead speaks louder. Our voice is not going to fall silence, if it will take us to our grave, we will go there until a difference is made!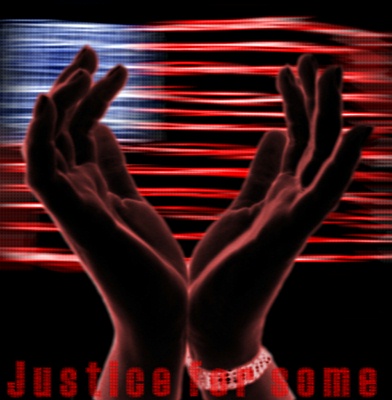 © Miranda R., Wyoming, MI