Ditch the Black-and-White TV
MAG
February 4, 2010
When Disney announced that it was going to make a movie featuring Disney's first African-American princess, there was great excitement. And even more exciting, the heroine of "The Princess and the Frog," Princess Tiana, was to fall in love with her handsome frog prince, who was of mixed race. In fact, Disney purposely made the character of Prince Naveen racially ambiguous, hailing from the fictional country of Maldonia. The announcement received much praise and controversy. In 2010, everyday representation of biracial couples on TV and in cinema is long overdue. I believe that interracial relationships should be portrayed more often and more positively in today's media.

Interracial couples have become more common in today's society, and the media should reflect that. In 2005, Stanford University Sociologist Michael Rosenfeld calculated that out of 59 million ­couples in the United States, seven percent were interracial. Now, five years later, that number has increased significantly, but the media has yet to ­reflect that.

With the social changes happening in our world, movie and TV studios are in a prime position to portray happy interracial couples. Celebrities like Robert DeNiro, Halle Berry, David Bowie, Nicholas Cage, and George Lucas, who are or have been in relationships with people outside their race, show that interracial pairings are not taboo in Hollywood. So why hide it?

Multicultural relationships could add a whole new demographic to television and movies. In the 2005 movie, "Hitch," Will Smith's character tries to win the affection of a successful Latina editor, played by Eva Mendes. Mendes, originally cast to prevent possible backlash from a black and white pairing, brought in a whole new audience. The movie was well received by all groups, including African-Americans and Latinos.

The media should take the lead in teaching society that dating outside one's race is perfectly acceptable. The younger generations seem much more comfortable with the issue of race. The February 2010 issue of Cosmopolitan reported that according to the U.S. Census Bureau, by 2050, minorities will make up a projected 53 percent of our population. It seems we have come to the point in our culture that race is no longer an issue. The media has a huge influence on our lives, how we think, and our actions. Television and movies are an opportunity to showcase interracial pairings in a positive light.

Some media outlets may be afraid that interracial relationships could raise eyebrows and start controversies. Racism still exists in our world. In a worst-case scenario, the media outlets could suffer as a result of their audience's reactions. Race is a very sensitive subject, and bringing special attention to it is risky – and media executives don't want risk.

But I believe that the fear of controversy should not stop progress. "Grey's Anatomy," "True Blood," "Friends," "Girlfriends," "Sex and the City," "Heroes," and "Supernatural" have become huge successes while portraying well-developed interracial couples. The media should not underestimate their audience and what they will accept.

The show "I Love Lucy," which aired in the segregated 1950s, was a major success, despite quirky Lucy being married to Cuban bandleader Ricky Ricardo. Interracial relationships have not hurt the success of these shows nor will they in the future. The general public is becoming more ­accepting and so should the media.

Multicultural relationships should be part of our mass media. It is time that soap operas and Lifetime movies show multicultural couples dealing with the same ­issues as couples of the same race. My hope is that major media corporations will recognize the trend toward interracial relationships and reflect it in their shows and movies. We hear people speak of the United States as being the country of progress and acceptance. Ten years from now, I hope that interracial relationships will be commonplace in our society and our media. It will show ­future generations that love is, in fact, colorblind.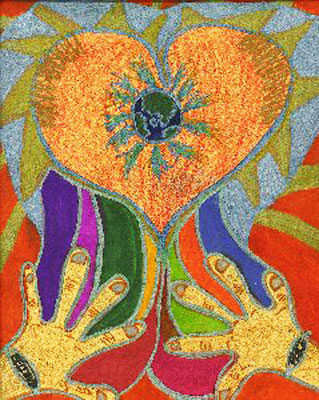 © Amanda P., Clermont, FL