I don't like Lady Gaga.
April 2, 2010
Blasphemy alert. I'm a sixteen year old American girl and I don't like Lady Gaga. And no, it's not because I don't like her music, her costumes, or her performances. I just don't like being manipulated.

Actually, I lied. It's partly her music, costumes, and performances. But not so much because they're hideous or outrageous or tiresome. But looking back at those pictures of her as a "normal" girl and seeing what and who she is now, it's almost insulting. The fact that this girl had to change into something almost non-human to finally get noticed is unsettling, at best. She's instead this cold, faceless force. No one noticed her when she was trying to "make it". But then the fame machine (monster, she calls it?) seemed to eat her up and spit out an entirely new person, repackaged and revamped to "shock" us all.

And in the end, it really isn't even that shocking. It's almost a little pathetic (and you'll see what I mean by insulting) when it seems that the state of the nation's youth has degenerated so much that we need a woman in a mask and sparkling breasts to tell us that we're all okay. Okay to be different, okay to be loved, the whole package. Because then we really aren't, are we?

She's been quoted as saying, "I would rather die than have my fans not see me in a pair of high heels. I'd never give up my wigs and hats for anything." I'm afraid that this mentality about possessions and image, to her millions of female fans, is dangerous. She speaks almost as if these material things are as vital to life as water is. This is the same woman who says that "I'm always saying something about art and music and fame. That's why you don't ever catch me in sweatpants." She claims that her style and her persona is for art, and yet, it begs the question if she ever does anything for herself. She makes herself a martyr for the love of her fans. And if she is as passionate as she says she is about new frontiers in art, why are the vast majority of her lyrics about sex and money?



I'm not asking her to be anything different, not exactly. Give me a David Bowie reincarnate, an rebel in the music industry. But give me a little more complexity, a little more beauty, a little more thought than just what's on the outside. Give me another facet than just the freaky hair and makeup and clothing, because if that's all there is, her opinion about simply being yourself is lost somewhere in the jumble of cosmetics and oversized sunglasses. But most of all, give me a break.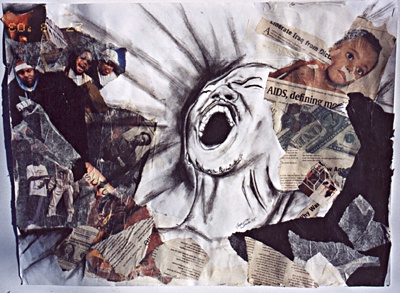 © Lashieta F., Kannapolis, NC