The Most Dangerous Words in the World
January 11, 2010
The word love scares people. It gives us a sense of power, a sense of belonging. When someone tells you that they love you it could be the best feeling in the world, or the worst. Some people just say it, because they don't know what else is left. However, there are others who are completely sure. I know that some don't believe it exists, or that there's no true meaning to the word love. With TRUE love however, there are exceptions. There are reasons behind saying "I love you" to someone, and if someone really means it, they might be at a loss for words or have too many to write. I don't just say those words to anyone. Why? Because I know who I am, and I know where I stand. I'm not afraid to take chances, to take risks. Where would we be without them? Don't be so confused or scared, just take a breath out of life. Take a step back and just relax, and think about things not with your head, but with your heart. Let me show you what I mean… to me:
Love is when you hear that person's name, and everything freezes. Love is when you're out at a party having fun with your friends, and you find yourself in a zone thinking of that one person. It's when you get sudden urges to just want to talk to them for no reason, when you can see anything and make it somehow remind you of them.
Love is when you think about that same person every night before bed, and keep them in your prayers even when they don't deserve to be there. It's when you wake up in the morning, hoping that you have a missed call or a text from them. Love is when you don't have that person in your life, and you dream about them. Your dreams are so real and feel so good, because you're actually seeing or feeling that one person; and you would just rather sleep all day because reality just isn't that great with out them in your life.

It's when you could set aside one whole day, and from beginning to end have a million things to say about them. Love is when even after not seeing that person for a long time, after just five minutes knowing something is wrong. Love is being able to read that person inside and out, and knowing that even when they say that everything is okay, everything is really not.
Love is about fighting through the struggles, and wanting to get through them; even though it may mean tears and hurt feelings. It's about not caring what others think, or have said or want for you. Love is when you close your eyes and you see their face, it's when you can't help but smile when you see them walking towards you. Love is about wanting only that one person, because for some crazy reason no one else just seems good enough. It's about finding a flaw in everyone else you try to love, it's about comparing who you really love to those you do not, and it's not about just the surface, it's so much more.
It's knowing they'll always be there for you, no matter how many hurtful things they've said in the past. It's about holding their hand and feeling safe. Love is when without that person you feel lost and confused, even though you tell yourself you're not. Love isn't about keeping track of time, but losing track of time; and knowing that it doesn't matter how long you have or haven't been together, but just knowing. It's about forgiving and forgetting. It's about pushing forward, yet never wanting a good moment to end.
Love is when you have things that remind you of that person, and they suddenly become your most precious gifts. Love is when you hear others saying hurtful things about that person, and you feel just as hurt as they would, if they had heard it themselves. Love is about realizing you're not the same unless they're there, and it's about bettering yourself with them around. It's so much more than just having fun with that person, or finding things in common. It's about a deeper connection, and even if you don't know every little thing about that person, you still know them better than they know themselves. It's when you feel like everyday spent without them is a lost cause.
Love is when you hug your pillow at night, and fall asleep thinking it's that one person when you don't have them with you. Love is when you can easily lay in bed with them all day. Love is about forgetting the world around you when you're together, and when you hold each other you don't have a care in the world.
Love is about knowing, knowing that without that person there is something missing. It's about digging deep inside and asking yourself if you can truly be happy without them around. Love is about looking to your future, and seeing that person next to you, and it's about knowing that if they're not there then you're just not going to be happy; even if you pretend. Love is being at a loss for words, yet being able to write a million about what love really is.

Love is out there, and it's real. Everyone has their own stories, and so everyone will have their own definition. Love is confusing and it's not something to take for granted nor to be pushed aside. It's something to cherish, and to hold on to as long as you can. No one can predict the future, and no one can say they will love someone forever. But you can promise someone that all of these things are true. Love isn't something to be played with, it can heal but it can kill just as easily. It's not a game yet it can't be taken too seriously. Love is whatever you make it, but before you say it you better make sure you know it's for sure, because those three words "I love you" are the most dangerous words in the world.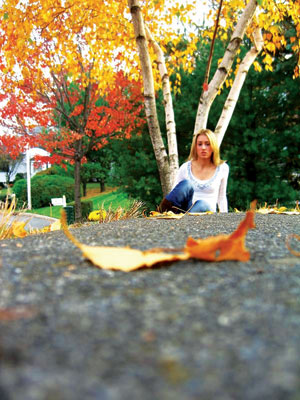 © Stephanie F., Garnerville, NY