A Romantic Relationship
October 18, 2010
For all girls out there here's a question that I know we've all been willing to find out the anwer to:
"What actually is romance?"
To me, romance is like a powerful bond between two people who are in love. Romance is how much you show your partner how much she really means to you. It usually all begins with a flower. That's the beginning of the relationship. But as you get into your relationship even more you start to decide wether or not this is person you want to be with forever. Once you've made that decision your partner(guy) will start to tell you these little romantic quotes here and there. Then one night, when the sun is just setting on horizon, he brings you to the beach or somewhere you can really see the sunset. After getting settled, you both sit down in a position where he's arm is around you. The guy will start talking about how much he loves your personality and how much he cares for you. Then once you face him he takes out a box, opens it to reveal a necklace. At that moment he takes out the necklace, puts it around your neck and asks you if you would like to be his soulmate and his lover. And when you say yes he would reply: "Good, 'cause i've always loved you and I will always love you!" He then plants a kiss on your lips just as the sun sets!..... That is romantic! That is romance.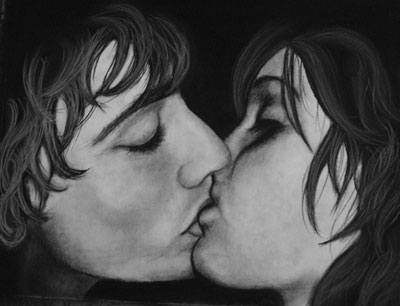 © Anna Y., St. Robert, MO