Do You Need to Date?
December 11, 2010
Statistics show that a whopping 96% of people do not go on to marry their high school sweetheart. I bet that puts a whole new perspective on your relationship with your boyfriend/girlfriend, if you're in one right now! So if only 4% of all people actually marry the person they're dating in high school, what's the point? Do you really need to date?

Reality check! Take a good look at yourself and be totally honest: what is the reason you're dating?

1 – Are you dating to get to know people better, and get to know what things you like and don't like in a person? That's fair enough, but what can be gained from dating that can't be gained from a really close friendship? To top that off, friendship generally lasts a lot longer than relationships. If you break up with your boyfriend/girlfriend, don't things become awkward between the both of you now? The friendship is dissolved. If you never date that person in the first place, then there's no risk of ruining the friendship.

2 – Are you dating because everyone else is doing it? Yes, I am going to sound like a mom right now when I say: "would you jump off a cliff just because everyone else is doing it?" Here are a couple of reasons why this intention for dating isn't a good one:
First of all, picture how your girlfriend or boyfriend would feel. What if they were dating you not just because "everyone else was doing it," but because they actually liked you? Imagine how crushed they would feel when you're just dating them to fit in with the crowd!
Second of all, disastrous results could occur. If you aren't ready to date and are just doing it because it's "the thing to do," then a serious relationship will be practically impossible.

3 – Are you dating because you genuinely like the person you're with? That's great, I hope everything works out between you two, but chances are, it won't. (This is an unfortunate truth, I know.)
Someday, you two are going to lose interest, have a fight, or something along those lines, and then break up. Enjoy the relationship while it lasts, but be prepared for a major heartbreak.

4 – Are you dating for a dad or a mom? This is often the reason for teens (particularly girls) who don't have a father or mother in their lives, either due to divorce or death. Please remember this: the guy or girl you're dating does not want to be your mom or dad, they want to be your girlfriend or boyfriend. The two different intentions could lead to some horrible situations, arguments, and heartbreaks.

So now what? Maybe after reading this, you've realized dating in high school isn't the best idea. Or maybe after reading this, your opinions about dating haven't changed. Everyone is entitled to their own opinion, and it isn't a capital crime to date in junior high or the "younger" high school grades. But if this article prevents at least one heartbroken girl or scarred boy – well, then it's worth it.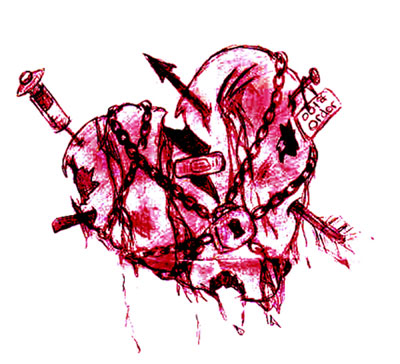 © Asia B., Hudson, MA