Paper vs. Plastic: The Future Of Books And What Millennials Have To Do With It
August 24, 2019
In the past ten years, the rising popularity of eBooks, such as Amazon's Kindle and the Barnes & Noble NOOK, had writers and readers alike fearing for the future of paper books.
Now that it's 2019 and books don't seem to be going anywhere, the hype around the eBook and even audiobooks has died down slightly. It's not really a mystery as to why books have been and always will be more popular and loveable than an impersonal metal tablet. Despite the world's constant state of innovation and technological advancements, paper books aren't in any danger of extinction.
When eBooks first took off in 2007, their popularity amongst readers had publishers worried for the future of paper books, and while Amazon has had a heyday with the Kindle, selling more than twenty million of them in just over a decade, paper books haven't really suffered for it.
The latest reports have shown eBook sales falling 17% in 2016, while paper books had an 8% rise, as reported in The Guardian. Even with the developments of Audible.com and other audiobook apps, and the expansion of podcasts, book sales have been on a steady up-rise.
One could argue that Generations Y and Z have nothing to do with this phenomena. After all, if millennials are to blame for the death of marriage, homeownership, and department stores, why not tack on basic literacy as well?
Tell your grandma to relax, because these Netflix-binging, avocado-eating millennials may actually be responsible for the rise in book sales. If anything, parents and grandparents are more likely to be at fault for the popularity of eBooks over paper books. According to Amazon Kindle Demographics, 75% of Kindle users are over thirty-five. So even if millennials are reading fewer books than their parents did at their age, that small percentage of young Kindle users are in no way responsible for the eBook's anticlimactic rise to fame.
This same conjecture applies to how millennials choose to purchase their books. A typical hardcover book at Barnes & Noble can easily cost twenty bucks, while paperback can be as low as twelve. Although some eBooks are priced at mere dollars, other books can be hundreds because the prices are set by the authors and not by Amazon itself. The devices used to read them are around a hundred dollars, and Kindle Unlimited has a subscription price of $9.99 a month. Another downside to book shopping on devices is that it really screws over the writers, but that's more about self-publishing stigmas than it is about book sales.
On the flip side, shopping at independent bookstores has gained major traction recently, and for good reason. Although prices don't differ too much between chain bookstores and independent stores, indie bookstores are on the move, taking over local communities and giving retail chains like Barnes and Noble a bad name.
Because over 70% of indie bookstore profits are put back into the community, there is even more reason to shop at family-owned businesses. These blossoming enterprises also give locals a comfortable, engaging space, for both readers and writers alike, as they typically sponsor book clubs, author events, and other creative social happenings.
In 2018, Forbes posted an article about an up-and-coming indie bookstore in Brooklyn that was and still is making waves in the literary community. Books Are Magic was started by a mother of two who wanted to make an impact in her community and succeeded in doing so. Along with book drives, promoting small authors, and hosting local book events, which sell out almost immediately, Books Are Magic has an attached Airbnb suite where visiting authors can stay for free, rather than breaking the bank on accommodations in NYC.
Give me an example of a retail bookstore that has this kind of impact on the world. There isn't one? That's what I thought.
Even people who prefer to order used books on Amazon are contributing to the book industry. One of every two books sold comes from the Amazon Marketplace, which still benefits publishers, writers, and agents--although all of this is bad news for Barnes and Noble. Readers may be willing to take trips within their local community and drop cash on a quirky, indie book, whereas traveling to the city center or mall to Barnes and Noble may be inconvenient. Despite all of their efforts to innovate the company and get communities excited about their books again, Barnes and Noble's business strategies continue to dig the grave deeper. The Guardian also reported that the Nook, the company's version of the Kindle, actually put them 1.3 billion in the hole, proving once again that technology can never replace our beloved paper books.
All of this to say that, physical copies of books are in no way threatened by the Kindle, Nook, Audible, or any other alternative form of reading. Perhaps it is in part because although we are the generation of the future, we are old enough to still respect and remember the past, and the way that books shaped us as we grew up. Even though Barnes and Noble will most likely be obsolete in the next ten years, we are in no danger of losing cherished paper books.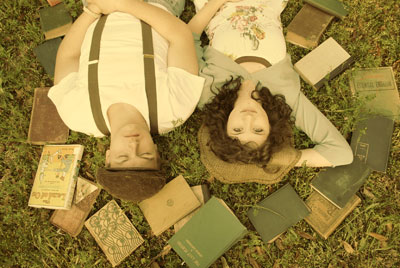 © Gabrielle A., Pensacola, FL