The Eye of the Beholder
October 20, 2009
Beauty isn't solely in the eye of the beholder – it's really in the mind of the beholder. It's arbitrary; not a real thing, but rather, an abstract idea that's constantly in flux.

The idea of beauty, and more specifically, the "perfect" body shape, has evolved over time. Before the turn of the 20th century, it was considered an admirable quality to be plump and round; it showed that you could afford to eat well. During the later Victorian period, women wore corsets so tight they couldn't laugh without fear of passing out, all in the name of "beauty". In the 1920s, the look in favour for women was a flat, thin, boyish look, with nearly no bust or hips. In the 30s and 40s, curvy was beautiful again. And now, while there are always those are true to their own unique look, the general public's idea of beauty is often skinny, long-legged, tanned, and often blonde.

Celebrities play, and have always played, a large part in what is considered beautiful, and major stars such as Twiggy and Marilyn Monroe influenced a large number of their fans. Celebrities strongly influence the way people live, eat, and feel about themselves, and not usually in a good way.

The media plays an important role in getting people to think skinny (or whatever the current look may be) is beautiful, and it often uses celebrities to endorse this idea. Magazines feature pictures of airbrushed, Photoshopped models, eroding peoples' self-esteem when they ask themselves: "Why can't I look like that?" The answer? You can't, because nobody looks like that – not even the models themselves. This leads to millions of weight-loss programs and remedies being advertised, all claiming to help you lose however many pounds you want, each of them more quickly and effectively than the last. None of them really work – they're just tools to make desperate people hand over good money.

If the idea of beauty is as subjective as history has shown, why couldn't it be manipulated? Why couldn't we create a world where beauty means everyone eats well and exercises and feels good about themselves? Think about this: if celebrities are so influential in the ideas the public has of beauty, why couldn't they put their fame and power to good use and try to make people see what beauty really means? However, do yourself a favour and don't dwell on what you have no power over. Think about what really matters, and don't spend too much time worrying about things that don't. Be proud of who you are and what you naturally look like – and maybe, if we could all do that, those poor celebrities might gain a little self-confidence.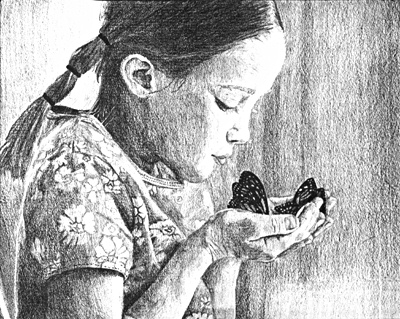 © Alina L., Holland Patent, NY