To friend-proof our world
April 13, 2009
I love to hear your smiling voice on the other line.
But I hate to hear the tears hiding just behind your lips.
I love to watch your laughing eyes just behind those glasses.
But I hate to watch the pain tearing you down just behind your gaze.

Hearing my best friend so upset kinda... broke me down, I couldn't help it. I want her to be happy. I'm not saying she shouldn't tell me when she's upset, I really do want her to tell me when she's upset so she can know I am here. I just want to be able to bend and mold the world around her, around all of us, so that it doesn't have so many sharp corners.

It feels like we're all little children, you know when your eyes are just level with the corner of the coffee table? Did you ever sit down underneath it or right next to it, then stand up and *Bonk!* you've got a lump on your head and tears in your eyes. You didn't do anything to deserve it, the coffee table just doesn't like you. Nowadays, I've looked through parenting magazines during those sleepless nights, and found all these new innovations for "childproofing" your house: squishy bumpers for all sharp or hard edges and corners, locks for cabinets and drawers holding heavy or sharp objects, plastic and rubber and foam and Nerf is everywhere for kids these days. We didn't have too many of these inventions in my house, if I recall correctly. Hazard was part of life since I can remember. I can see why parents would want to "childproof" their house. I want to "friendproof" our world, if you get what I'm saying.

If you childproof a house, it's safe for a child to be in and be happy in. If you friendproof a world, it should be like that, safe for your friends to be in and be happy in.

So, here's a list of things we need inventions for in order to "friendproof" our world:
1. Misunderstandings
2. Discrimination
3. Pain
4. "Survival of the meanest" mindset
5. Death
6. Fear
7. Longing
8. Loneliness
9. Confusion
10.Impossibilities

May all your days be squishy and fluffy.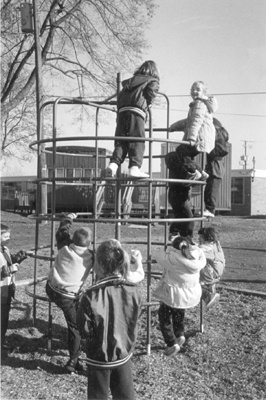 © Danielle H., Jonestown, PA