Masterwork
February 21, 2015
Everyone dreams of adventure. Isn't that why people read novels? To engross themselves into another world, to travel alongside a character you love on all his or her trials and adventures. How would you feel if you were a character in a story? If you were chosen, or born for it, or in the right place at the right time in order to save a planet or a country or a people, to vanquish a deadly foe, to fall in love or overthrow oppression, to make a difference in a way you never could have imagined on your own.
As with every good story, you would start off as the underdog. Maybe you're bullied at school, or ignored, or don't think you're good enough, or have a debilitating flaw. Odds are, at the beginning of your story, whatever the problem is, nobody thinks you can handle it.
But slowly, you rise to meet the challenge. Through heartbreaking trials, through thick and thin, you persevere, out to do the right thing. You may not think you're good enough, but you press on because you have to. Like it or not, the story rides on you. Whether it's lives of freedom or friendship, something is at stake, and it depends on you.
At some point, there is what I like to call a "dungeon moment." You've read of them. It's that one point where the hero—you—are taken captive and at the mercy of the enemy, when you're certain everything is lost, when all of your efforts are ignored. Defeat is so close, you can taste it, and it doesn't taste good.
But before long, something happens. Something turns everything around, changes everything. Whether it is another character giving hope, or the enemy's weakness being revealed, or a brilliant escape plan being hatched, something turns the tide and changes things. You, the hero, unexpectedly rise again to fight another day, to make one last-ditch effort, because you know that if you can't do it, no one can. And against all odds, you succeed. Against all odds, you emerge victorious, you vanquish the enemy, you make things right.
I realize that not every story goes exactly like this, but I can think of countless stories where this basic skeleton is found. Many of the best books I've ever read—a vast majority, come to think of it—follow this design. The only reason it's not cliché is that it never gets old, and there are so many variations of it that an author can use it as many times as they like and still have an original story.
Most in the audience can appreciate another aspect of a good story: no story is made without a good writer. There is an author behind every story with every character in every situation. No matter who the main character is, he or she was specially created to fulfill a purpose, to accomplish something. And every writer, no matter what else they write, will ensure that every character fulfills his or her role. A writer knows his or her characters inside and out, better than they know themselves. A writer designs a story in such a way that no matter what the main character has to go through, he or she always rises to the challenge, and is able to do all that is asked of him or her.
What if you were a character in a story? Don't ask yourself, "Would I be able to do it?" I can answer that for you: yes, you can, since you ARE in a story.
You were created for a purpose. You were conceived of before the world began, the days of your life already ordained. Your story was already being built when you were born. The Author knows you inside and out, knows your every thought and emotion, and is honing you to be exactly the character He has in mind.
An Author created the universe and everything in it. This Author is easily the best to ever exist; He's written billions of stories. Maybe you think you're not good enough, but get this: not only are you one of His main characters, but for countless others, you are a sidekick or supporting role or you make a cameo appearance. Without you, any number of stories would never come to fruition. One person can and does make such an impact. Every person you come in contact with, you affect somehow. It's a ripple effect: you will never know exactly how someone else was changed by meeting you. But the Author knows. He designed it that way.
Don't protest that you're just one of billions. A wise pastor* once said, "Ever number has a name every name has a story and every story matters to God." And this holds true, no matter who you are. Why? Because God is the Author, and He wrote your story. You are His masterwork.
Romans 1:16--For I am not ashamed of the Gospel, because it is the power of God for the salvation of everyone who believes.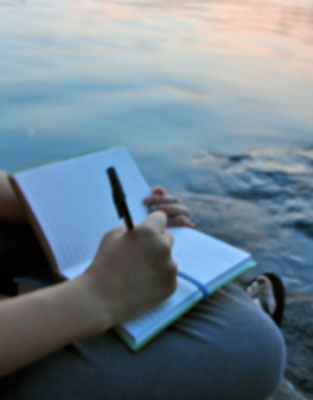 © Grace K., Port Washington, NY