Light Breaks Darkness
September 9, 2011
The night was young,
and so was I,
the sun had set,
the moon hung high.

As the mist of night
creeped over all,
it seeped through the cracks
of my soul's stone wall.

The wind blew a chorus
of haunting cries,
and I felt the wet chill
of tears from my eyes.

The bare grass softly brushed
my bare hands and feet,
and over and over,
my thoughts would repeat.

If I looked up, I saw your eyes,
burning brilliant and bright;
like shimmering jewels in the
air of the night.

If I closed my eyes
and heard ghostly chimes,
of our laughs, now gone,
to the depths of lost time.

I couldn't escape;
the night shut me in,
to the torture chamber of memories
that never would end.

I sat there, unhearing,
silent- shaking;
unaware of the choked
breaths I was taking.

Your touch, your face,
your laugh, your voice-
I wanted them to leave,
but did I have a choice?

Would the memories ever stop?
Would the night never go?
Desperation set in,
deadly and slow.

Life was a burning wound,
each day brought more pain;
darkness seemed inviting,
death seemed a gain.

"God, forgive me!" I cried,
my voice shattering the still.
The wind hit my face
as I ran down the hill.

My feet left the ground,
the water pulled me in;
the pain would be short,
then I'd be with you again.

My eyes slowly closed,
as the hand of Death,
grasped my soul,
stole my breath.

And as my life faded,
I saw my last, fleeting sight;
the first golden ray
of morning's light.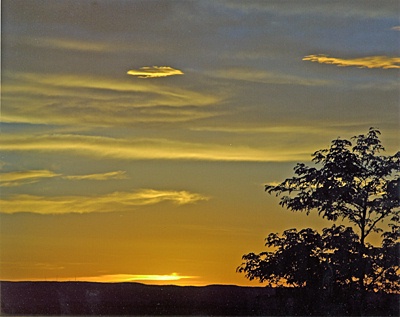 © Elizabeth B., Wichita Falls, TX