Book Reveiw: Algebra 1
September 9, 2012
Most books I will devour in ecstasy.
All but one. The one that sits before me.
I do not understand the language it is written in, yet I must conquer it.

The book is a mystery but with
no explanation in the ending.
There is a sequel, though, promising new developments. Algebra 2.

Algebra. Three syllables, there.
Half the first line of a haiku.
That's the only fraction I can make. And it is not from lack of trying.

I am a writer not some
mathematician, born to count
Or add, subtract, divide. The numbers swim before my eyes.

Black ink runs down my cheeks.
It mixes and cakes my skin,
streaking my face with the numbers I meant to write.

Confused, I huddle
With my pencil raised
Annotating, but not understanding.


Calculators
Are little help
When it actually comes to translation.

Teachers frown,
At my sweat—
The answer I produce.

I write.
I read.
I don't compute.

Help.
Me.
Help me.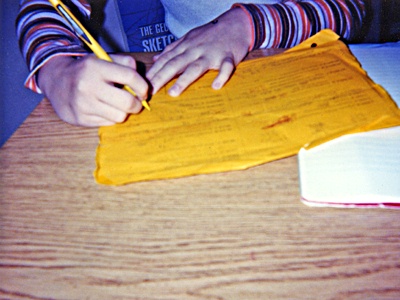 © April R., Highland Village, TX