the day you died
February 5, 2009
Close your eyes and memorize
the hairs on the back of our necks,
the bump in my nose
and the whistle in these eyes.

Your tongue licks the ghost
in front of you every time
those full lips are moistened,
poisoning your breath and
catapulting your...

insanity!
profanity!

There are etcher-sketchers on walls
and paint ball masterpieces that litter us

litter us.

will-o'-the-whispish and a hint
of white and black
I'll take your picture in Polaroid
(that 'kodak moment' of bliss
when shame doesn't keep you
from meeting my gaze)
and coffee stain it -
fade it...
tack in on the wall and spit
on your unseen feet!

You should shed my skin...
peel it back ' bloody and thick
then gut my soul
to analyze
what you have missed.

Stuttering ' stuttering
muttering -
muttering.

Catch that sigh in your throat,
and instead grin
in a gagged sort of way
so I won't have to hear your breathe
as a reminder
that you're alive.

Coughing ' choking ' bloating

it's this retching up of memories
as they gurgle up my esophagus in an acidic manner
that is dulling my eyes
and burning my lips to the point of blood.

Redredred.

I wrap my arms around your skeleton body
your body of emotional obesity
but feel nothing...and I imagine you just flew away.
But no, you faded,
just like you were afraid to,
you faded...
and are now just a stereotypical
statistic
I will eventually...forget.
(see you on the other side?)

so I scream: just do it! do it!
But it's miss-heard as ' duet! duet!

And you turn away accusingly,
giving me perfect aim to stab you in the back
while the background scene changes from blue
to...what?

What was that you said?
Cunningly placed for me to read
and seethe about?

'at least I didn't try to kill myself'...aye?
is that what you say?
well honey...that's all a matter of
opinion.

An opinion wrapped in honey-suckles
and beeswax candles
emanating a sickly scent that makes me
want to vomit you right back up
and leave your heart's corpse as road kill
for some crow to pick at
then get run over ' so you could have it's death as well
on your conscience.

It's tempting
oh so tempting

but instead
I'll settle for brushing my teeth
coating my lips in chap-stick (and lust)
then huff and puff
and blow your world down!

But before you die -
swallow your pride
and look
at

me.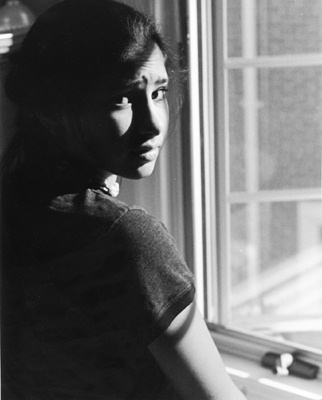 © Jennifer H., Bethesda, MD