Bitter Sweet Hated Loving
February 13, 2010
I was comin to school,
for the most to see you.
Our talks on virtue,
and how love didn't seem true.
But what is this between me and you?

A talk about the girl who'd fall,
and get a kiss for the beatings and all.
The boy who'd satisfy her flower,
but only so an hour.

You hate to stop talkin to me,
for fears of losing me.
I Love...
is what you said
when I sat up in my bed.
Feeling love still can't be true,
Because a theft's revolver,
left me,
without you!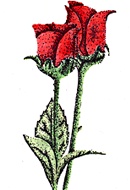 © Sarah M., Phoenix, AZ