You Won't Talk
September 29, 2010
I can't keep living off the rumor mill,
Going by what hall shadows say,
Unsure if their claims and gossip are true,
As they change up day by day.
It's been too long, if ever, that you've
Let me know how you feel before
You run your intentions past the rest of the school
To see what I'll say, to be sure.
It's killing me, all the times you looked
At me like I wasn't there,
When not even a week ago
I'd catch you trying not to stare.
In class now, you ignore me too,
You don't even turn around to say "hi."
You don't have to treat me like I'm your best friend,
But at least try and act, try to lie.
It's hard to believe that you're in both extremes,
First so love-struck, but now, so cold.
So sweet and adorable, so nice and so fun,
Then you end "us" for reasons I don't know.
I can't keep living off the rumor mill,
Sending messages to you every day,
As you ignore me and force me to talk to the shadows
To pass on the words I need to say.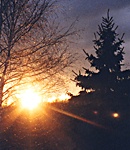 © Christy S., Germantown, NY