Ontario
December 1, 2018
Lay my childhood dream of childhood to rest in a field of greens,
So alive this time flowers can spring forth from it.
Simple, nostalgic things like that are life at its most beautiful.
Crying moons and screaming suns scorching what makes us, us,
Analyzing cities and taunting schools,
A year or so flies by and I'm wondering whether or not they are forgetful.

I remember the feeling of dangling off thin pathways,
And the cold burns of Ontario lakes that capture cheer and have it thrive.
The feeling of falling into a plunge of adolescent humour,
Scabs leaking adolescent laughter,
And adolescent blood.
The feeling of beat basketball in Ontario rains, and the taste of old caesar dressing.
Puddled garlic and pure bliss.
The feeling of breathing bubblegum and choking on their steam,
Laughing at the mere prospect of such a fantasy.
The feeling of falling head first for men in dresses and women in tuxedos,
And wondering why the Ontario world isn't this accepting in reality,
Why everyone isn't this accepting in our irritating reality,
But the entrancement of blue lights and bubbling ideas overcomes always.
The feeling of organic conversations, the clouds and nines of teenage years,
No negativity, naught but uniqueness and humanity,
The feeling of wishing it could never end, but also wishing it would.
When bad overcomes the good, and good overcomes the bad,
And when we are so drunk on our Ontario selves that we can no longer tell which is which.
The feeling of the Cuba rays I'll never see, but nonetheless imagine,
Hibiscus and sun burns that scream innocence.
Childhood tans that will never rub off.
The feeling of a genuine friend,
And wondering which hellish Ontario cloud they settled on.

The impossibility of rain and your embraces,
I had slept over, but was sent home early that day.
Can't forget you.
I'm sitting on this bed, unknowing of what to do,
The lines between happiness and sadness so easily become blurred.
Can't forget you.
I'm with you by the Big Tree,
Dainty on our roots, the equivalents of glass,
Your threats and your love and your passion and your vice and your vice,
I've come to hate and love it.
The lines are still blurred.
Can't forget you.
Our truths are growing older,
And I'm still with you at elementary,
All over again,
Again.
Sprouts of unhappiness and happiness,
You are an opposite in itself.
Can't forget you.
I promise, I'll never forget you.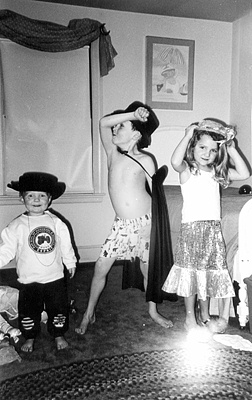 © Anonymous