Women
MAG
December 17, 2018
she is orange juice being sipped through a curly straw.
she is slightly misshapen stars painted on her Converse.
she is the solar system model hung meticulously on her ceiling.
she is watercolor-stained hands and
hair drawn back into a messy bun.
she is beauty.
she is energy.
she is art.

she is a shovel throwing up dirt in a garden and a cat curled up on her lap.
she is the A, scrawled on top of the test she was sure she would fail.
she is lemonade poured into a mason jar, perfectly sharp and perfectly sweet
she is hands kneading a floury pie crust and
a flower peeking through fresh snow.
she is comfort.
she is dreams.
she is hope.

she is bruised hips and scarred wrists.
she is microphone feedback through an empty room.
she is bloody knuckles and a can of mace in her back pocket.
she is thighs that jiggle when she dances and
eyes that cry when she hurts.
she is pain.
she is courage.
she is truth.

she is leggings covered in sawdust and a leather jacket hung on a rack.
she is deep red hair dye stained on a pillowcase.
she is the wiring of a saw creating and a surprised sharp laugh.
she is bright lights flashing on a darkened stage and
the memories of when those lights weren't there.
she is growth.
she is life, well lived.
she is joy.
she is the words scrawled on a protest sign, not in anger but in passion.
she is a carefully thought out but messily wrapped Christmas gift.
she is kind words for those she loves and those who have wronged her alike.
she is hair curled and makeup done and
the movie night with friends she dressed up for.
she is shining eyes.
she is a smile.
she is peace.

she is a windowsill full of succulents, all with different names.
she is hugs without restraint and celebrations with no reason.
she is the rainbow beaded necklaces being thrown from a parade float.
she is encouraging sticky notes and
handwoven friendship bracelets from the fourth grade.
she is commitment.
she is pride.
she is love.

We are polished painted nails and broken bitten ones.
We are every tone of skin and every color of the rainbow.
We are flower crowns, and metal ones too, torn jeans and long flowing skirts.
We are stars in the sky and blades of grass growing from the Earth.
We are soft curves and sharp angles, celestial bodies and earthly ones.
We are art and hope and truth and joy and peace and love.
We are women.
We are one
And we are many.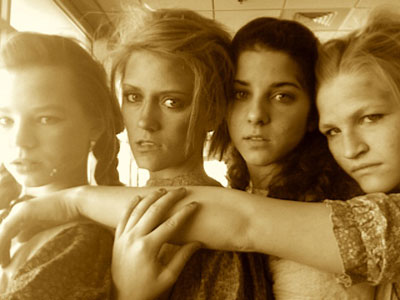 © Sarah Q., Leawood, KS