Spent Light Bulb
March 27, 2019
Fallen twigs crack like bones under my feet.
Nothing is around, to protect me from what lies within.
I think, "How did I get here?"
Trapped.

Trapped in the open wilderness
Leaving nothing but my ghosts to haunt me.
Trapped, between the illusion of two clear paths.
Trapped.

How foolish I must be to think they do not
lead to the same bear den.
But the journey continues,
And hope soon grows sick of the chase
And deceases.

Something I too wished to do as well
But it was too late.
The emptiness fills the environment.
Trapped.

The howl of the mind
brings chills down my spine
As twigs snap in my chest.
The emptiness, clawing at my throat.
Trapped.

The forest grows more and more dense,
All while drying up, and the
claustrophobic emptiness shines clear.
I am my biggest fear.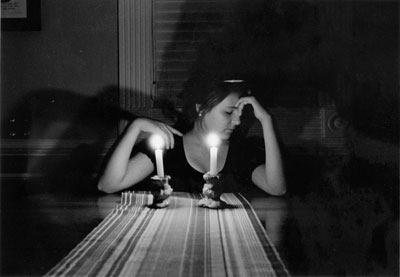 © Eleanor K., Bethesda, MD